The next-generation 2013/2014 Mazda MX-5 will get a turbo four-cylinder powerplant and could weigh as little as 800kg, according to international reports. This could mean the new Mazda MX-5 will come with a significantly improved power-to-weight ratio over the current generation model.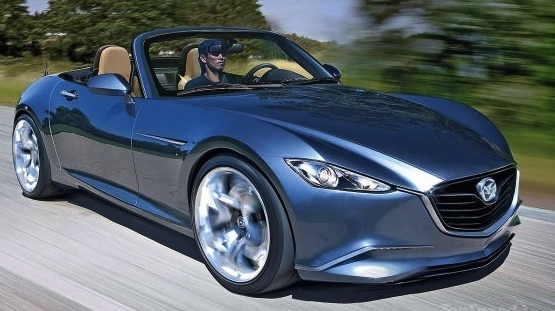 The very first Mazda MX-5 weighed just 940kg when it debuted in 1989. According to reports, a senior engineer at Mazda has said the development team have been given the task to work towards rekindling this lightweight sports car characteristic, and have apparently been told to aim for a total weight of just 798kg.
Obviously this is going to be a pretty tough goal to meet, but even if the Mazda engineers get close to 800kg, it will be highly praised by the enthusiasts. Since its debut in 1989, the MX-5 has grown in size and weight for every subsequent year, up until today, where the car weighs around 1095kg.
Driving enthusiasts have been longing for some sort of performance engine to go with the superb handling layout. But before we jump the gun, Mazda is said to be developing a small-capacity four-cylinder engine with direct-injection for the next MX-5. A unit such as a 1.4-1.6-litre turbocharged engine is expected, which will allow Mazda engineers to boast significantly improved fuel economy figures, as well as offer decent performance.
We must remember Mazda's new generation of engines and chassis developments will be following the new SKYACTIV technology philosophies. These aim to bring down the average manufacturer fuel consumption figures, as well as company emissions.
Weight reduction will come from a number of measures, some of them include the use of aluminium in the main structure of the car. Although the chassis will apparently consist of mainly steel, a number of innovative designs are said to have been submitted to the patent office, such as a twin-backbone frame and high-strength panels which will allow the drop-top chassis to maintain torsional rigidity.
The car is also said to be more compact, with a reduction in overall measurements, and is likely to use a slick new lightweight manual transmission,  providing a nice short-throw feel like the original MX-5. A tighter torque-converter automatic gearbox, with a lock-up clutch, is also on the cards.
As for the looks, the new Mazda MX-5 is expected to take on Mazda's new 'KODO: Soul of Motion' design language. The design could take much of its inspiration from the Mazda Shinari Concept we saw at the 2011 Australian International Motor Show last Friday. (Rendered image above based on the Shinari)
Will it be quicker than the current model? Well, that's a question that can only be answered with time. Speculations say the new model is likely to offer gains in performance over the existing model.
The next-generation Mazda MX-5 is expected to be revealed some in 2013.