Independent vehicle safety authority ANCAP has announced its market coverage has grown to 93 per cent, following the addition of several previously untested Suzuki and Kia models.
"We've today awarded the maximum 5 star ANCAP safety rating for the Suzuki Vitara which is a real boost for consumers and Suzuki," said James Goodwin, ANCAP CEO.
The front-wheel drive Suzuki Vitara variant and Kia Optima up until this week were untested by ANCAP. The Suzuki Vitara, manufactured in Hungary, received an overall score of 35.79 out of a possible 37 after crash tests. For some context, the Mazda CX-3, a close competitor to the Vitara, received 36.44/37 when it was tested.
Goodwin explained that, "The Vitara performed well in physical crash testing and includes reversing collision avoidance and a manual speed limiter as standard."
Ultimately though, the Vitara's score was hindered by the lack of autonomous emergency braking, blind-spot monitoring and adaptive cruise control.
It is worth noting that the European Suzuki Vitara variants are fitted with autonomous emergency braking. Also, only the front-wheel drive variant Vitara has been tested by ANCAP, while the all-wheel drive and Turbo variants remain unranked.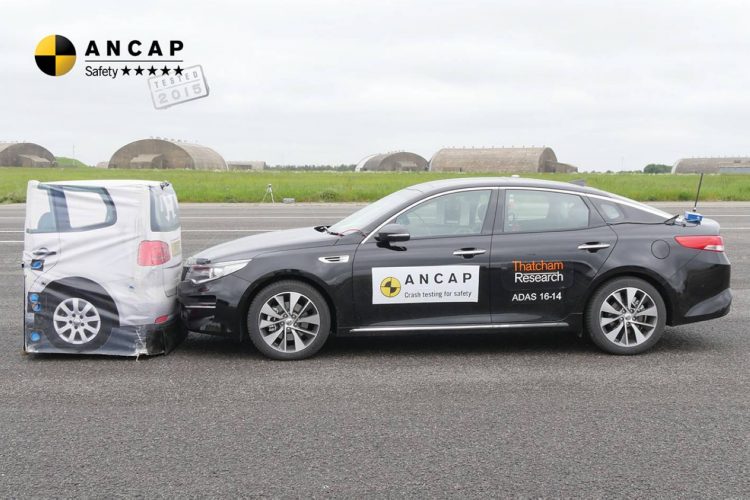 The Kia Optima was also given a five-star ranking by ANCAP for the first time, covering all of its variants. It scored 88 per cent for adult and 86 per cent child occupant protection, respectively, and a perfect 16/16 in the frontal offset test.
The strong score was thanks to the addition of safety features like lane support systems, fitted as standard on all Optima variants. Goodwood said:
"The Optima provides a high level of standard active safety features including all three grades of autonomous emergency braking, and demonstrated good performance in all crash and safety assist performance tests."
Being the recipient of a five-star ANCAP rating will also help to "open the door for families and fleet buyers in the market for a replacement medium-size passenger car with top safety credentials," Goodwin said.
In the interest of fairness, the two tests weren't conducted under identical conditions. Unlike most others, including the Kia Optima's test, the Vitara's score was determined by testing at Crashlab here in Australia, and not from a hybrid of crash testing and Euro NCAP data. Goodwin said:
"The inclusion of these two models in the now lengthy list of vehicles rated by ANCAP sees our coverage of the market grow to 93 per cent. Our focus of late has been to target models which have sat unrated for some time and we will continue this focus over coming months in parallel with our usual program of rating new models entering the market."