As a bit of an April Fool's joke, MINI has announced the new MINI Hipster Hatch, complete with flannel patches and a twin-deck cassette player.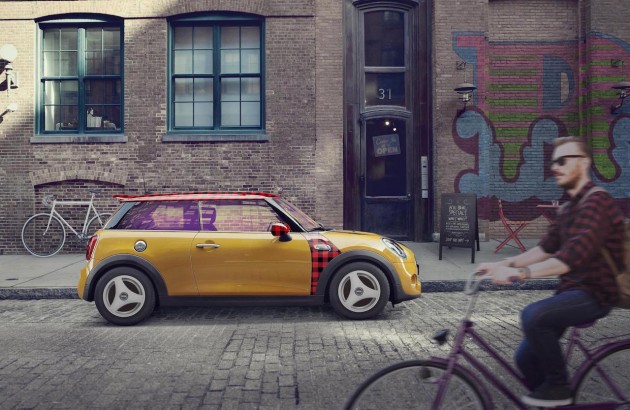 Based on the MINI hatch, the Hipster features Instagram-filtered windows, a 'fixie' fixed-gear drivetrain, and snippets of vintage clothing around the interior for that typical anti-neutral look.
So, we know you're asking, 'what are Instagram windows?' Well, they provide the occupants with various filters to choose from, including LO-FI, Clarendon, Crema, and 12 other pre-loaded filters to transform any journey into a nostalgic memory.
The powertrain, with its single gear, offers a top speed of 40km/h, making it perfect for scooting through the middle of the city down the middle lane. MINI says that four of the otherwise-featured forward gears have been removed for a "greater feeling of control when popping out for a superfood smoothie".
Other highlights include alloy wheels that have been 'upcycled' by hand from previous alloy wheels, "on-trend body colours" such as Organic Pumpkin and Brooklyn Blue, as well as the twin-deck cassette player that allows users to "sidestep the mainstream with their own mixtapes". Speaking about the new edition, Ivanna Newcarr, said:
"The MINI Hipster Hatch is like no other we've built before. Inspired by the kind of innovative thinking only found when you ignore the script and ask what those who refuse to be categorised want from a car – features like fixed gear drive, twin-deck cassette player, upcycled details and Instagram filtered windows to name but a few."
MINI says only a limited number of the Hipster Hatch will be available, and that if you've got a FOMO (fear of mission out), MINI recommends you head to this special website for more info.