Mercedes-Benz has been spotted test driving a near-production version of the highly anticipated X-Class ute out on public roads in Germany for the first time, giving us all our first taste.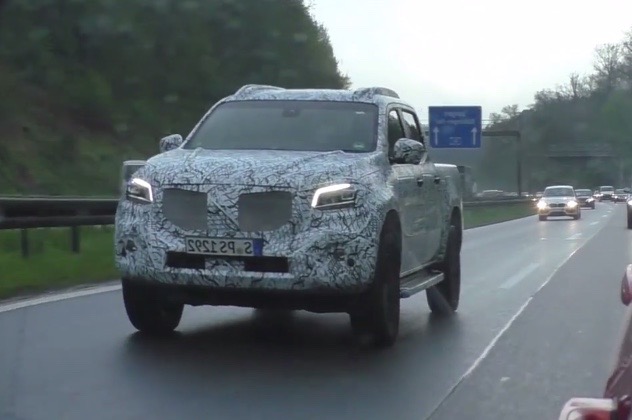 So, what's so different to this prototype compared with the concepts Mercedes has already shown (including in Australia)? Well, this one looks to be wearing its production body and not the concept-like body previously seen.
Around at the back deserves particular attention, as it features a conventional tailgate instead of the fenced setup on the off-road concept. A road-oriented concept also featured a large LED-embossed design that ran the circumference of the tailgate panel.
Being based on the Nissan Navara, you can see some similarities in the doors in terms of proportions and panel contour, and the dual-cab glasshouse structure seems pretty similar. The rear windscreen is a bit suspect in our opinion, covered in some camouflage, but it looks like it will feature the unique sliding window piece from the Navara.
Details regarding the powertrain are still to be confirmed, however, it will be produced under the Mercedes-Benz Vans commercial department which suggests we should look their for potential options.
Speculations suggest the X-Class will chiefly be offered with a 3.0-litre turbo-diesel V6 producing around 180kW and 600Nm. The last Viano came with such a unit, developing 165kW and 440Nm, while the last M-Class passenger car (replaced by the GLE) had a similar arrangement but produced 190kW and 620Nm.
An AMG performance model could be on the cards, but it's unknown if the Navara platform could handle a belting high-output V8 unit without extensive revisions.
The X-Class is expected to become a very popular vehicle in Australia and the U.S., where upper-spec utes and pickups are in strong demand. A public debut is set to take place later this year. Take a look below to check out the scoop.