Mercedes-Benz's high performance division at AMG is apparently working on an all-new 4.0-litre twin-turbo V8 engine which is expected to power a number of upcoming models, including the next-gen C 63 AMG sports sedan.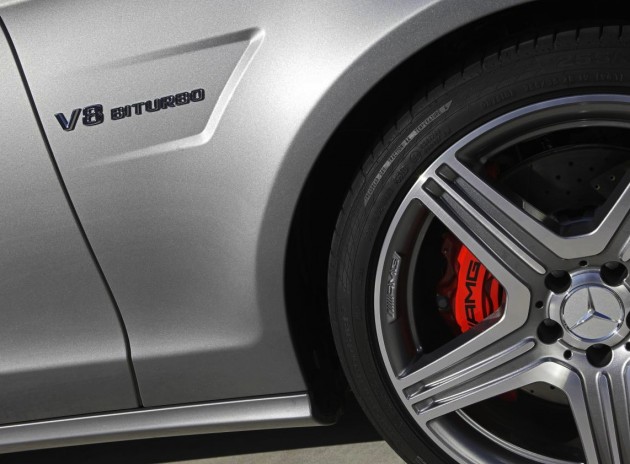 In the ongoing fight to reduce fuel consumption and emissions, AMG is set to downsize one of its engine families. According to a recent Autocar report in the UK, the boffins at AMG are working on a new 4.0-litre twin-turbo V8 which is said to be based on the 2.0-litre turbocharged four-cylinder engine that will power the upcoming A 45 AMG.
You might be wondering how a V8 can be based on a four-cylinder? Basically, the fundamentals of the four-cylinder, including the individual cylinder displacement and bore and stroke sizes, as well as the boost from a turbocharger, would be multiplied by two and formed into a V8 block.
Power outputs and specifics haven't been revealed yet, however, they are talking about a benchmark figure of around 340kW. The engine is then expected to be tuned and honed as time goes by. Of course, the engine is also likely to be tuned differently depending on the status of the model that it will be used in.
Speaking of vehicle models, the new engine is pitched to be the power of choice for the next new Mercedes-Benz C 63 AMG. This would replace the current naturally aspirated 6.2-litre 336kW V8, giving it some strudy competition against the upcoming BMW M3 – a car of which is highly likely to feature a turbocharged engine as well.
The new engine is also tipped as being the replacement for the current 5.5-litre naturally aspirated V8 that's used in the SLK 55 AMG. It is only early days though. We'll be sure to keep track of this one and keep you updated.
A 'twin-turbo C 63 AMG' does seem to have a nice ring to it doesn't it?