Welcome to Mercedes-AMG's most epic road car ever, and perhaps one of the most insane road cars of all time. It's called the Project ONE, and it's the German company's answer to supercars such as the LaFerrari and McLaren P1.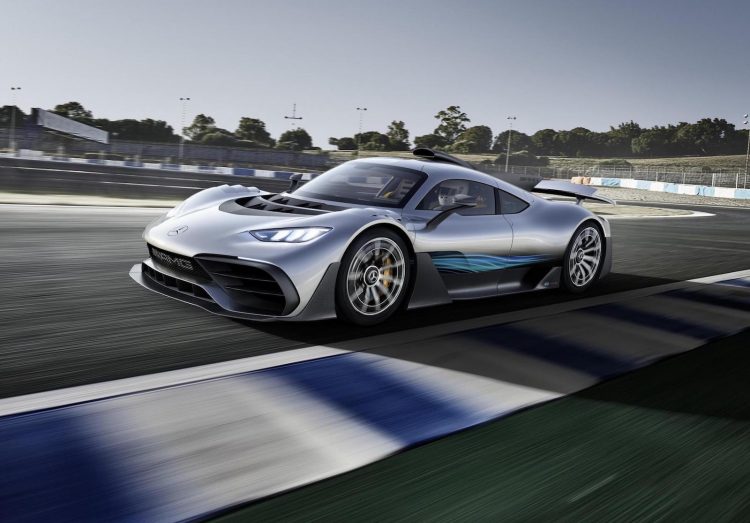 At the heart of it all is a 1.6-litre heavily turbocharged V6 engine, derived from the one used in Formula 1, which is then paired with an electric hybrid assist system. The V6 really is inspired by F1 engines, featuring pneumatic valves and spur cam gears to help it rev up to 11,000rpm – the highest of any road car we can think of.
Interestingly, the shaft that connects the exhaust and turbine wheels of the turbocharger is assisted by an electric motor that produces 90kW alone. This helps the turbine build boost. Lots of it, and very quickly. Additionally, an electric motor producing 120kW is also used, mounted to the crankshaft to provide extra power and torque. On top of this, there's another two 120kW electric motors for each of the front wheels.
All of this is worked through a 4Matic all-wheel drive system after going through a brand-new eight-speed automated manual transmission. Obviously plenty of aerodynamics work has gone into keeping the hypercar flat and stable at high speeds to keep it from taking off like a plane.
Also helping with traction are a set of 19-inch front alloy wheels wearing 285/35 Michelin Pilot Sport Cup 2 tyres, with 20-inch wheels wearing 335/30 Sport Cup 2 tyres on the rear. The wheels are forged and feature centre-lock nuts like on an F1 car.
How does this all look on paper? Well, there's over 500kW at the rear axle and 240kW at the front, for a combined output of over 740kW (1000PS [metric hp]). Acceleration from 0-100km/h hasn't been mentioned but the 0-200km/h time of under 6.0 seconds is ridiculous.
To give you an idea of the forward force, the latest Lamborghini Aventador S does 0-200km/h in 8.8 seconds. Another 2-3 seconds off this would be insane. The top speed of the Project ONE is over 350km/h, and, if you're wondering, it can run on electric power alone for around 25km. Ola Källenius, Daimler AG board of management responsible for group research and Mercedes-Benz Cars development, said:
"The Mercedes-AMG Project ONE is the first Formula 1 car with MOT approval. Our highly efficient hybrid assembly stems from motor racing and the electrically powered front axle generates a fascinating mixture of performance and efficiency. With a system output of over 1000hp and a top speed beyond 350 km/h this hypercar handles exactly as it looks: it takes your breath away."
At this stage the car is still in concept form but it will inspire a production vehicle to hit the roads soon. Some of the technology seen here will also trickle down into more conventional AMG cars in the future.