McLaren driver Lewis Hamilton has taken pole position for the 2012 Hungarian Grand Prix in Budapest, pipping Renault driver Romain Grosjean by a whole four tenths of a second.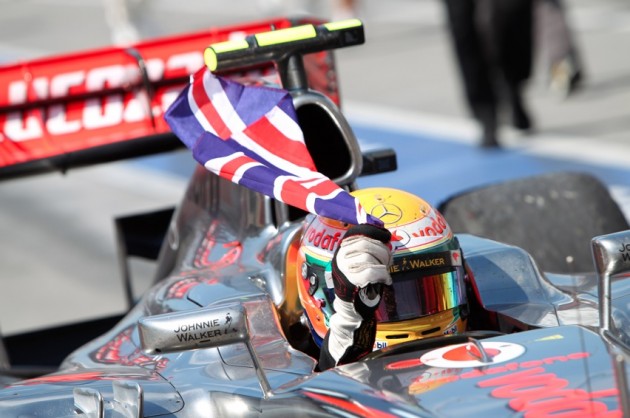 Australian Mark Webber had a shock exit after Q2, missing out on a spot in the top 10 by 0.018 seconds. He'll start the race from 11th on the grid.
The other Aussie, Toro Rosso driver Daniel Ricciardo was also the man on the wrong side of elimination in Q1, missing out on the top 17 by one spot.
Webber's Red Bull Racing teammate and world champion Sebastian Vettel will start from third with Hamilton's fellow McLaren driver Jenson Button joining the German on the second row.
Lotus pilot Kimi Raikkonen and Ferrari's Fernando Alonso (current leader the F1 drivers championship) will be on row three.
Ferrari's second driver Felipe Massa showed promising signs after going seventh fastest while the two Williams of Pastor Maldonado and Bruno Senna will start eighth and ninth, respectively. Force India's Nico Hulkenburg rounded out the top 10.
1. Lewis Hamilton McLaren-Mercedes – 01:21.0
2. Romain Grosjean Lotus-Renault – 01:21.4
3. Sebastian Vettel Red Bull Racing – 01:21.4
4. Jenson Button McLaren-Mercedes – 01:21.6
5. Kimi Räikkönen Lotus-Renault – 01:21.7
6. Fernando Alonso Ferrari – 01:21.8
7. Felipe Massa Ferrari – 01:21.9
8. Pastor Maldonado Williams-Renault – 01:21.9
9. Bruno Senna Williams-Renault – 01:22.3
10. Nico Hulkenberg Force India – 01:22.8
11. Mark Webber Red Bull Racing – 01:21.7
12. Paul Di Resta Force India – 01:21.8
13. Nico Rosberg Mercedes – 01:21.9
14. Sergio Perez Sauber-Ferrari – 01:21.9
15. Kamui Kobayashi Sauber-Ferrari – 01:22.3
16. Jean-Eric Vergne STR-Ferrari – 01:22.4
17. Michael Schumacher Mercedes – 01:22.7
18. Daniel Ricciardo STR-Ferrari – 01:23.3
19. Heikki Kovalainen Caterham-Renault – 01:23.6
20. Vitaly Petrov Caterham-Renault – 01:24.2
21. Charles Pic Marussia-Cosworth – 01:25.2
22. Timo Glock Marussia-Cosworth – 01:25.5
23. Pedro De la Rosa HRT-Cosworth – 01:25.9
24. Narain Karthikeyan HRT-Cosworth – 01:26.2