As a last special goodbye edition for the Mazda RX-8, Mazda Japan has announced a final Mazda RX-8 Spirit R special edition for the local JDM market. The special model comes with subtle interior and exterior revisions over the normal Type RS and Type E variants.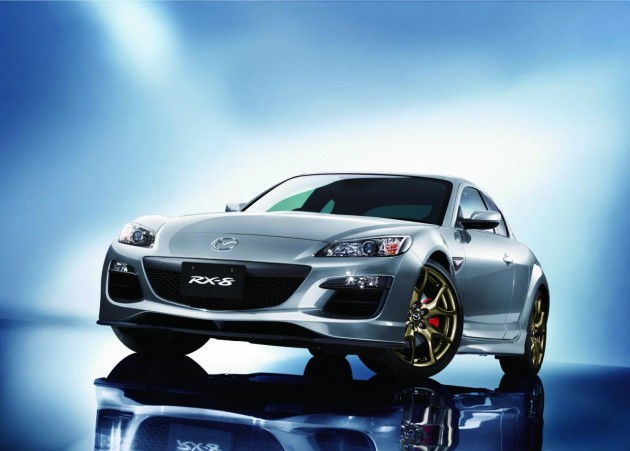 From the outside, the Mazda RX-8 Spirit R special edition features 19-inch bronze alloy wheels, hiding a larger braking package with red-painted calipers, as well as sports suspension, new spotlight clusters and a new, fresher looking headlight design.
Inside, the Mazda RX-8 Spirit R special edition comes with unique leather Recaro sports seats with red stitching, as well as piano black highlights on the centre console and 'SPIRIT R' badging.
Under the bonnet, the normal 13B Renesis naturally aspirated rotary engine remains unchanged, and is available with either the Type RS six-speed manual or Type E six-speed automatic transmission.
Just 1000 versions of the Mazda RX-8 Spirit R special editions will be made, and be sold up until the end of production for the RX-8 in June 2012. Takashi Yamanouchi, chairman of the board and president and CEO of Mazda, recently said,
"Mazda's iconic rotary engine recorded its famous victory in the Le Mans 24-Hour endurance race 20 years ago. Throughout 2011, we have been celebrating the 20th anniversary of that victory by demonstrating the winning 787B racecar at Le Mans' Circuit de La Sarthe and various other events around the world."
(See Video: Mazda 787B rotary rebuilt and relived for some of the Mazda 787B celebrations)
"At each one, the screaming rotary engine and the sight of the 787B have enthralled everyone from young children to race fans who witnessed its victory in 1991. These events have been a powerful reminder of the widespread passion for the rotary engine."
Takashi Yamanouchi also spoke about the future of the rotary engine in Mazda's future lineup, saying that the engine design will live on. He said,
"Although RX-8 production is ending, the rotary engine will always represent the spirit of Mazda and Mazda remains committed to its ongoing development."
There have been various reports surrounding the successor to the Mazda RX-8, which is said to be called the Mazda RX-9. The new Mazda RX-9 could use a 16X Renesis engine with laser ignition technology.