Mansory is not a brand known for tasteful restraint, but it certainly has its place in the auto world. Plenty of the rich and famous do not want to blend into obscurity with an ordinary Porsche/ Mercedes-Benz/Ferrari/Maserati. They want something altogether more exclusive and bold than those cars and that is where the Swiss tuner comes in. Here are the company's 2017 Geneva Motor Show exhibits:
Mansory 4XX Siracusa Spider
Based on the 488 Spider, the Siracusa Spider adds a bold carbon aero package, gold wheels and an engine tuned to 581kW and 870Nm, to drop the 0-100km/h time to 2.9 seconds and raise the top speed to 341km/h.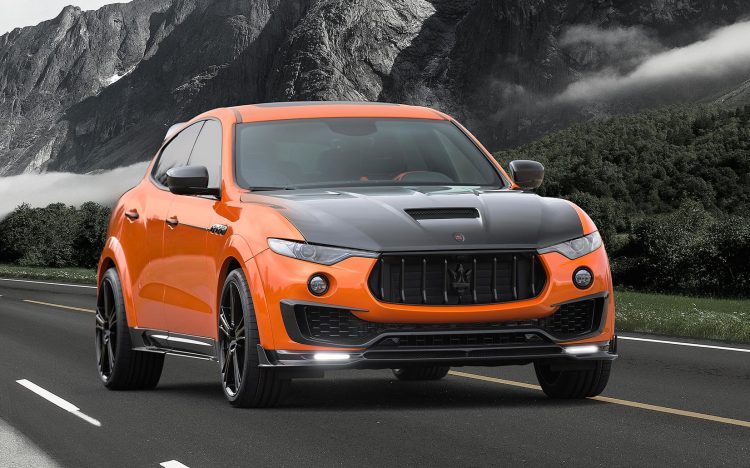 Maserati Levante
Sporting bright orange paintwork and highlights that continue inside, the Mansory Levante also gets 22-inch wheels and a menacing carbon-fibre bodykit. Engine modifications take engine power for the 3.0-litre twin-turbo V6 up to 346kW.
Porsche Panamera
Based on the second-gen Panamera, things get a bit harder on the eyes with this very bright red and gold creation. Aggro-looking vents adorn the bodywork, with aerodynamic fins and spoilers indiscriminately placed on the car. 22-inch alloys and an engine reworking to 524kW complete the ensemble. It might be challenging to look at, but hey you can't call it boring and you don't go to a motor show to look at plain cars.
Gronos Black Desert
Based on the G-Class 4×4² the Gronos is a murdered-out and altogether more sinister-looking beast, with spotlights, carbon-fibre body parts and vents throughout. The red interior does not look like a subtle or relaxing place to sit, either.
Mercedes-Benz V-Class
If that's what you're after, then this "first class lounge for on-the-road" might give you what you need. A combination of Alcantara, special wood and leather trim provides a serene ambience as a stark contrast to the other vehicles here. Other features include a mini-fridge and entertainment package.
Black Edition
Based on the Mercedes-AMG S63 Cabrio, the Black Edition adds a number of body modifications, 22-inch alloys and a boost to 617kW for a 3.5-second 0-100km/h time and a 300km/h top speed.