A Kurdish Peshmerga fighter has thanked his bullet-proof E32 BMW 7 Series after he managed to save 70 citizens from snipers in the city of Kirkuk.
Kirkuk, a city in the Kurdish-controlled but highly contested area in the north east of Iraq, was at risk of being overrun by Islamic State forces. In response, a man by the name of Ako Abdulrahman decided to help out stranded citizens by driving them to safety in his bullet-proof BMW 7 Series.
"My friends were very happy when I bought the armored car," Ako told CNN. Ako purchased the one-off bulletproof 1990s BMW around four months ago for $9000.
"We started driving in it to the front line near Kirkuk, not worried about ISIS drive-by shootings or roadside bombs." He said.
Ako, 32, is a husband and father to four children in the township of Taza Khurmatou, a short 20km drive from the city of Kirkuk. On October 21, the city came under siege by ISIS forces, prized for its oil reserves.
"I told myself, this is the right time to help people, this is the right moment to do it. I am a fighter and I have a bulletproof car, shame on me if I can't help," he said.
"I kept telling myself, my people are in danger, they need me, my city is in danger, I have to protect it."
"When I arrived at the scene, I saw many people on the ground, civilians and security forces and no one could dare to come close because of ISIS snipers and random shooting… In my car, I carried Sunni, Shiite, Kurds, Turkmen and Christians. I felt like I am truly Iraq and this is who everyone should be," Ako said.
"My car received more than 50 bullets, [there are] marks all over it," he says, adding that "ISIS kept shooting, hoping to penetrate my car to kill me and kill the wounded people inside it."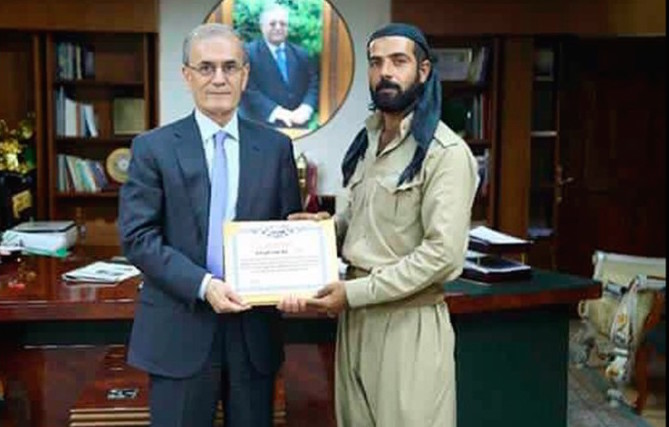 All up, Ako was able to rescue 70 people from the streets of Kirkuk, a feat that has earnt him the thanks of the local governor of the region, Dr Najmaldin Karim, who also donated $385 for Ako's bravery. BMW has since contacted Ako offering him a brand new car for his bullet-ridden 7 Series to be displayed in BMW's museum.
Mr Abdulrahman rejected BMW's offer, adding that he wants to repair his vehicle and continue using it.
"I am not a hero, I am only an ordinary Iraqi who wants to defeat his country from criminals and killers," he concluded.