A new track day car has hit the block called the Magnum MK5. It's being made to rival the likes of the Caterham Seven and the more recent BAC Mono and KTM X-Bow.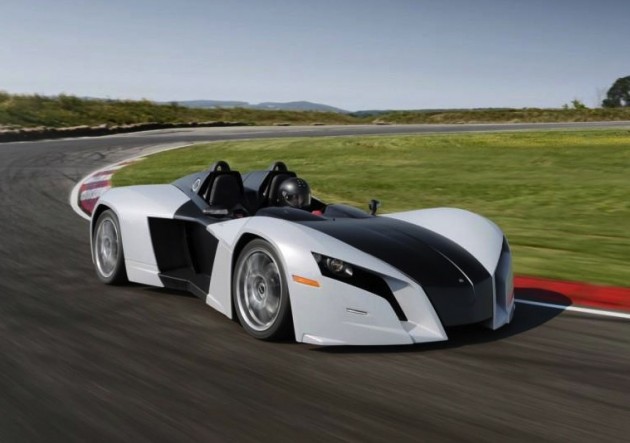 The exterior is very striking, with a modern flow of panels and seamless contours, and an aggressive front end incorporating inverted and recessed headlights. There's no grille in the centre, only intakes beside the headlights.
Turning to the sides and you'll notice the huge gopping intakes just behind the doors. The sills are drawn in quite obviously too, leaving a kind of concave look. Around the back is just as intriguing, with large recesses flowing vertically from the taillights and a diffuser underneath.
Power comes from a mid-mounted four-cylinder engine of unknown capacity, producing 186kW. While the output might not be the largest you've heard of, the engine is capable of revving to an incredible 11,000rpm.
The screaming engine and a six-speed sequential transmission, with a limited-slip differential and rear-wheel drive, are able to support 0-100km/h in just 3.2 seconds. Flat out, the MK5 will hit 240km/h. Part of this epic performance is down to the 545kg dry weight.
Magnum seems to be taking it all quite seriously, equipping the MK5 with CNC-machined aluminium wheel hubs, adjustable pushrod suspension front and rear, a quick-release 310mm racing-style steering wheel, two carbon fibre bucket seats with six-point harnesses, and a set of lightweight 18-inch alloy wheels with 225s on the front and 265s on the rear.
We'd certainly love to have a go, wouldn't you? Magnum is planning to make just 20 examples per year, with orders being taken as of now. Considering the car comes with road-legal competition tyres and indicators and side mirrors, we assume it would be street registrable.