Lotus has revealed a new special edition to spice up the Elise range, called the Sprint edition. It's lighter in weight and comes with some unique design touches.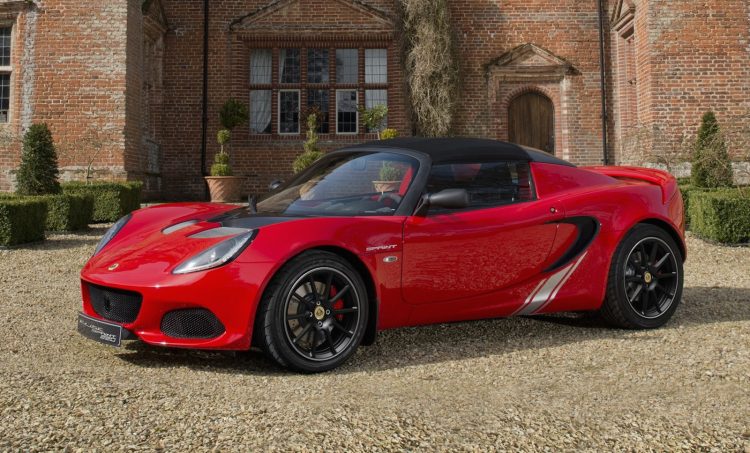 Following in the footsteps of the larger and more powerful brother, the Exige Special Edition, the Elise Sprint does away with some parts and instead incorporates carbon fibre in various areas to shed a total of 41kg.
There's a lithium-ion battery that saves 9kg, a redesigned front clam panel and new front grille saving 8.7kg, carbon bucket seats that cut 6kg, some forged alloy wheels that shed 5kg, and a carbon fibre access panel and roll-over cover that contribute to save 6kg.
Some special two-piece disc brakes also help to cut 4kg, clamped by AP Racing calipers, and some carbon sill covers save 0.8kg. All up, the Elise Sprint tips the scales at just 798kg (dry weight), making it one of the lightest weight vehicles in the class.
As you can appreciate, losing weight is like gaining power. The 1.8-litre supercharged four-cylinder engine produces up to 164kW of power, in the case of the Elise 220, with a 0-60mph (97km/h) time of just 4.1 seconds.
Lotus says the changes not only improve acceleration, the Sprint also offers harder cornering, while the engine has been tuned to offer a better note. Engineers have tweaked the acoustics of the 1.8, providing the "perfect soundtrack" that makes it, according to Lotus, "the best-sounding four-cylinder car on the market".
The Sprint edition is being offered in Elise Sport and Elise Sprint guise, with deliveries set to commence in April.