Performance car enthusiasts will be happy to hear the new Lexus RC F sports coupe will go on sale in Australia from $133,500, making it considerably more accessible than its nearest rear-drive rival.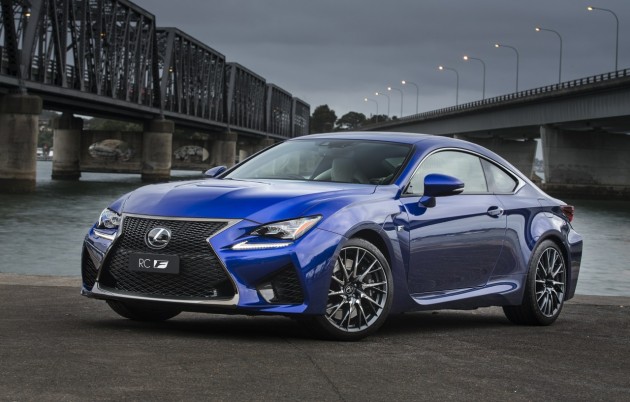 A step up from the IS F sedan, the RC F has been made as a completely bespoke sports car. It does feature a similar engine to the IS F but it has been extensively tweaked and tuned and now produces 351kW and 530Nm (up from 311kW and 505Nm).
Behind the engine is an eight-speed sports automatic – derived from one of the best sports automatics on the market in our opinion (IS F) – and a heavy-duty rear-wheel drive system and differential. Acceleration from 0-100km/h takes just 4.5 seconds, with the quarter mile coming up in 12.5 seconds.
If this isn't sporty enough, Lexus Australia is going to offer the Carbon package which brings some weight savings thanks to a carbon fibre roof, bonnet, spoiler, and a cool Acantara interior trim. The complete package was put together with lessons the company learned during the development of the epic LFA supercar.
The RC F becomes the company's new high-performance halo model, competing with the likes of the BMW M4 coupe and Audi RS 5. Local company chief executive Sean Hanley spoke about the new model in a statement, saying,
"RC F matches a great sounding, high output 5.0-litre V8 with a fantastic chassis that rewards the performance-minded buyer with an incredible driving experience. It also provides drivers and their passengers with high levels of safety on top of aggressive styling that is ideally suited to the vehicle's high performance intentions."
Selected dealerships will be displaying demo models from December, with an official on-sale date taking place in February. Prices for the Carbon edition start at $147,500, with the regular model started at $133,500 as mentioned (excluding on-road costs).