The new Lexus RC F is the Japanese company's latest sports car. Although the V8 engine is carried over from the IS F sedan, engineers have implemented comprehensive changes to provide higher performance and driveability.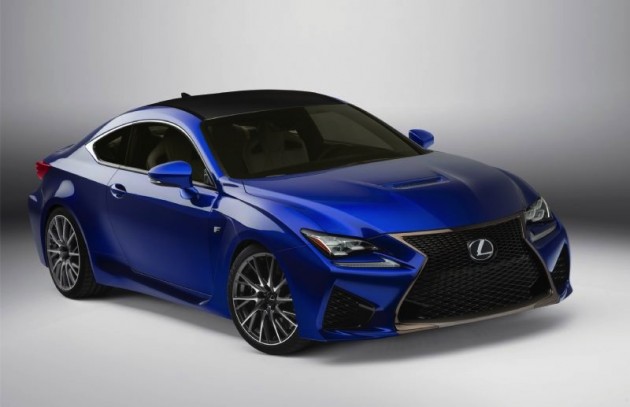 Capacity remains the same, at 4969cc, incorporating 32 valves and twin overhead camshafts. There is a higher compression ratio for the revised unit, jumping from 11.4:1 to 12.3:1. This enables a higher torque figure, climbing from 505Nm (at 5200rpm) to 530Nm, which is now available across 4800rpm to 5600rpm.
Inlet and exhaust valves are made from titanium, while the conrods are forged, as are the main bearings. With these changes, maximum revs is lifted from 6800rpm to an ear-pinching 7300rpm.
Lexus says most of the engine components are new, including the throttle body (wider) and the intake, the D-4S injection system, pistons, crankshaft, and even the VVT-i valve timing is fresh for the RC F. The heads have also been changed with improved porting and a higher tumble ratio.
Interestingly, the new unit is able to run on both Otto cycle and Atkinson cycle. In fact, the engine automatically switches between both depending on the driving style and speed, with the Atkinson cycle improving economy during cruising speeds. Lexus hasn't mentioned the official average consumption rate, however, it is expected to be lower than the IS F's 11.4L/100km average rate.
Annoyingly, Lexus has introduced an Active Sound Control system for the RC F, which brings enhanced exhaust, intake and mechanical sounds into the cabin. It does this via a special speaker located beneath the instrument panel. We've tested the Lexus IS 300h which had this feature and it sounded obviously fake. Luckily, it can be turned off in the IS 300h – let's hope it can be turned off in the RC F. (Surely a high-performance V8 doesn't need fake engine sound enhancements?)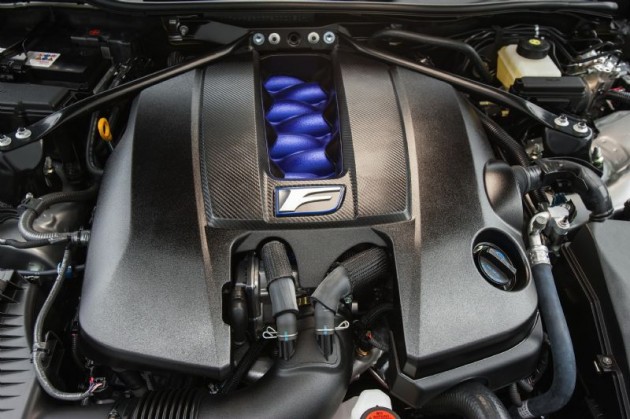 The end result of all of this is a V8 that produces 351kW of power and 530Nm of torque – also known as the most powerful production Lexus V8 ever made. It's able to shift the RC F from 0-100km/h in just 4.5 seconds, and on to a quarter mile in 12.5 seconds. The top speed remains electronically limited to 270km/h, just like in the IS F.
Lexus Australia is yet to launch the new RC F, however, it will arrive next year. Prices are yet to be announced. We'll remind you the RC 350 V6 is now on sale locally if you aren't looking for pure V8 performance.