As disappointed as we are to report this, the Lexus IS F high performance sedan might soon come to an end. The regular new IS sedan, which launches later this year, could be considered as sporty enough by the luxury carmaker.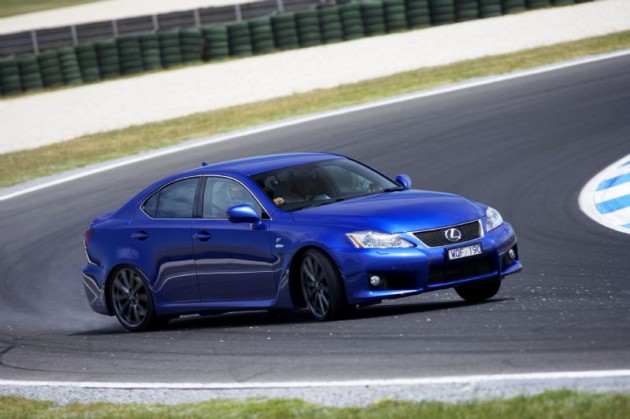 The reason for a possible axeing is said to be down to dwindling sales against the hotheaded V8 rivals from Germany, namely the BMW M3 and Mercedes-Benz C 63 AMG.
According to a recent USA Today report, Lexus will soon stop producing the IS F, with sales coming to an end by 2014. The report says,
"The redesigned 2014 Lexus IS model that's going on sale this summer will have sport variants, but no F high-performance version. The 2013 is so truly, lovably, enjoyably sporty that it seems quite odd for a brand seeking a sportier image — which it swears it'll earn through its products rather than its marketing — to discontinue it.

"But as a consolation prize, Lexus says it'll keep the 2013 IS F on sale through year's end."
It's understood the regular next-gen IS sedan, which arrives in Australia during Q3, in 250 and 350 forms are being considered as 'sporty' enough by the company, seemingly defeating the purpose of the IS F. Lexus chief IS engineer, Junichi Furuyama, said in a recent report,
"Well, IS F, so many people express very strong interest in IS F, and they all ask the same question [when a new model is coming].

"For the time being, our plan is to retain the current model for a while. As to what we are going to do next, I'm not in a position of disclosing. All I can say is we're thinking very hard about what we should [do]…"
If the US report is true, it will be such a shame. There was speak of a new IS F under development, or at least talks of where to go next in regards to the IS F. We'll have to await official word from Lexus in Japan to know for sure.
In Australia, Lexus sold just 80 examples of the 5.0-litre 311kW V8 sedan during 2012. Due to the way VFACTS compiles its official sales figures, there is no way of telling how many BMW M3s and C 63 AMGs were sold during the same period – only 3 Series sedan and C-Class sedan data is available.
We certainly hope the Lexus IS F (review and track test) isn't being killed off. It provides awesome V8 grunt accompanied by a bellowing soundtrack. It's also something a bit different from the Germans while still being as near as capable in terms of performance.
Prices for the IS F in Australia start at $126,800, which is cheaper than both of the German rivals – although, a BMW M3 'Pure Edition' is on sale at the moment, starting from $125,000.