Is this the coming of the new-age? Tuners are now developing kits for not only hybrid cars, but full electric vehicles such as the Tesla Model S, as LARTE demonstrates.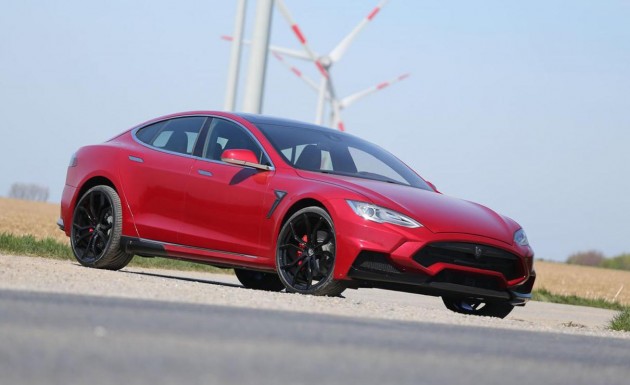 The American arm has turned its attention to the already-epic Tesla Model S P85D. In factory form the P85D is the quickest-accelerating production sedan in the world.
It comes with two electric motors providing a combined output of 515kW. LARTE has managed to modify the electric system so it now produces 662kW. That's about 900hp, and it remains an electric car that uses no petrol at all.
LARTE has refrained from revealing what it has done exactly to boost the power, but it apparently offers a 29 per cent improvement in performance. This means 0-100km/h no longer comes up in 3.4 seconds. Instead, a 29 per cent improvement would see the sprint done in just 2.5 seconds.
Considering a Nissan GT-R that develops 404kW can cover the dash in 2.7 seconds, it certainly seems believable that this could do it even quicker. Apparently there's no decrease in overall range either.
Apart from the added power, LARTE has also developed custom front and rear bumper bars made from a material of basalt fibres. There's also carbon fibre side skirts, wheel arches, and a unique rear diffuser system.