Some more details are starting to come through on Lamborghini's upcoming Urus SUV, with the latest reports saying it will get a unique twin-turbo V8 and not the V10 from the Huracan as first suspected.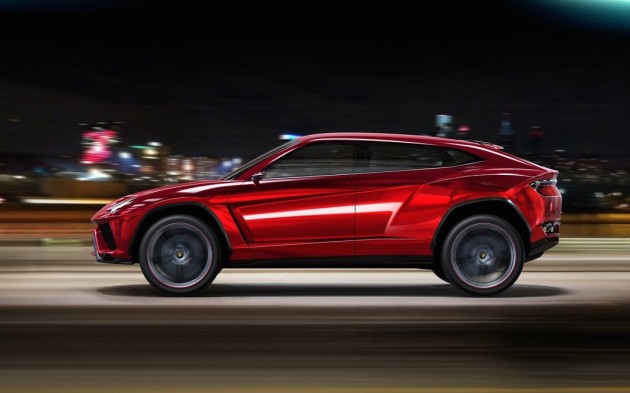 It was initially thought to receive V10 power and later an iteration of the Aventador's V12, but according to a recent Autocar report the Italian marque is planning a new 4.0-litre twin-turbo V8 for the SUV.
The publication says Stephan Winkelmann, Lambo boss, has confirmed the V8, along with development boss Maurizio Reggiani. It's understood the company is going for a turbo layout – the first turbo Lamborghini ever – due to the wide power and torque spread such a setup inherently offers. Reggiani said:
"In acceleration and in off-road capability it is really important to have a high level of torque, in order to move as quickly as possible and in an off-road situation to have the ability to come out of a critical situation easily."
Reggiani said the testing team is planning to hone the vehicle's off-road performance next year. Despite being a supercar-only brand, Lamborghini looks to be pretty keen on developing an SUV with decent off-road credentials, especially as the vehicle type is very popular at the moment all over the world.
Lamborghini falls under Volkswagen Group, along with Audi and Bentley. But despite these luxury brands having a 4.0-litre twin-turbo V8 in some of their vehicles the Lamborghini unit is set to be completely bespoke. Reggiani said that in order for it to be the most powerful in the class it needs to be dedicated to the brand. Both the transmission and chassis must also be developed to make it a "true Lamborghini" as well, he added.
Prototypes have already been built with initial testing apparently returning impressive results. Lamborghini says the Urus will be the fastest production SUV on the market. It may also be offered with a plug-in hybrid powertrain further down the track. In any case, all variants will be all-wheel drive.
Market entry for the Urus is set to take place some time in 2018. It's expected to be priced near the Huracan, which retails from $428,000 in Australia.