Remember the Lamborghini SUV concept images that were allegedly leaked around a week ago? An official from Audi – one of the brother companies under Volkswagen Group – has confirmed Lamborghini is intending to unveil such a concept to gauge the public's reaction on a potential production version.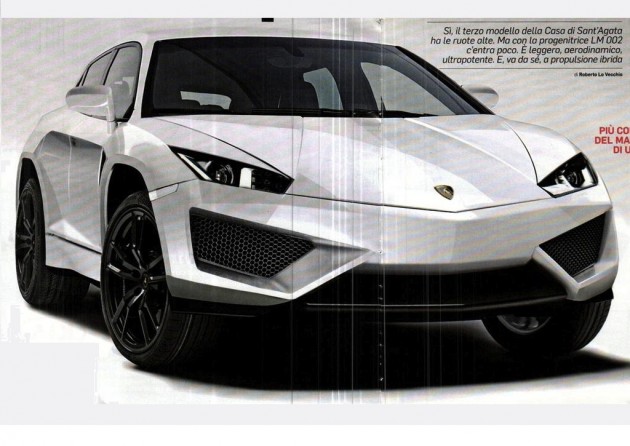 At the time of those images being revealed, the vehicle was only a speculation. According to a number of reports quoting a credible Audi senior source, the Lamborghini SUV concept will become a reality. The source recently said,
"I can't comment in detail, but the speculation in the press is largely correct."
Word has it the new concept will be pitched to the public at the 2012 Beijing Motor Show in April. The concept is set to present uber up-market levels of luxury, style and engine performance, rivalling vehicles such as the Maserati Kubang concept – unveiled at the 2011 Frankfurt Motor Show – and a possible upcoming Bentley SUV.
Power is set to come from a 5.2-litre V10 engine borrowed from the current Gallardo, producing around 433kW. This will make it the first petrol V10-powered SUV to ever be introduced into mainstream market. A higher output hybrid version is also said to be on the cards.
This won't quite be the Italian carmaker's first off-road vehicle. In the Eighties and Nineties, there was the Lamborghini LM002. It was designed as a military vehicle, so technically the upcoming off-roader will be the company's first SUV (sports utility vehicle).
Under Volkswagen Group, Bentley is also set to announce a new SUV. It is likely the new Lamborghini SUV concept – codenamed, according to Autocar as the LB736 – will be built on a very similar platform, which will also be shared with the upcoming Audi Q7 and Porsche Cayenne.
If all goes well, a production version isn't set for a showroom release until 2016. This will be around the same time Lamborghini releases the replacement for the Gallardo.
By the time it arrives, again, if it arrives, it will give Lamborghini a three-car showroom lineup, along with the Lamborghini Sesto Elemento which has been confirmed for production.