Supercars are a strange phenomenon. They are priced higher than most people's homes. They sound better than sex. They are often capable of three-folding the national speed limit. Yet, they aren't really designed to be driven. Well, not every day anyway.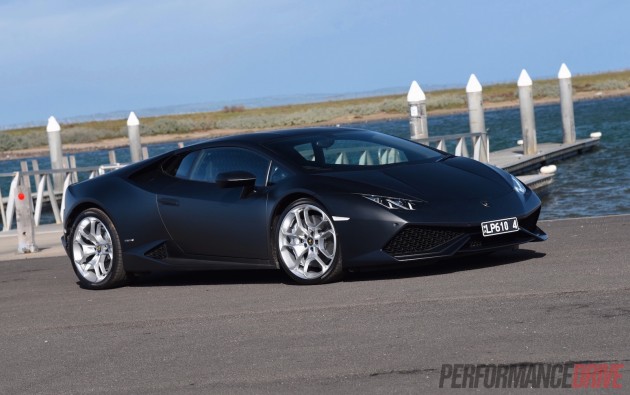 In the last decade though supercars have become more 'friendly' in that they can be driven every day. They don't necessarily have to blow the doors off the neighbours' house on every early morning start up. And they can be, dare we say it, comfortable.
This is all being made possible thanks to the introduction of button pushing. Or, more specifically, changeable driving modes. Is this a bad thing? We've just spent 24 hours in the epic new Lamborghini Huracan LP 610-4, a modern supercar equipped with such buttons, and we've walked away thinking, no. It is no bad thing.
Just before we get into the review we're going to give you quick a taste of the car just so you have a better understanding of what we're talking about, and to help paint the picture, so to speak. If the hairs on the back of your neck don't stand upright after listening to and watching this passionate Italian sing its song and do its dance, then you're simply not a car enthusiast.
What you're hearing there is a freshly developed 5.2-litre naturally aspirated V10 engine, derived from the previous Gallardo V10 which has been engineered in part with Lamborghini's parent company, Audi. In the Huracan it produces 449kW of power and 560Nm of torque, featuring both multi-point and direct injection technology (a first for a V10). The glorious unit is nestled into the back of the two-seater that weighs only 1474kg (tare weight), bringing a desirably low power-to-weight ratio.
Lamborghini has received a decent hit of criticism on the Huracan, mainly from so-called car experts. They say it has become too civilised in terms of design and drive character, and that it handles too neutral. We're sorry, but we completely disagree. This is the company's entry-level model. It is designed to introduce buyers to Lamborghini and the world of supercars. If you want something more serious then you should be heading to the Aventador Superveloce, or wait for the 'Superlegera' Huracan.
Let's start with the design. When you stand next to this in person, it's hard to walk away thinking you could possibly want more. In fact, it's hard to walk away full stop. Countless pedestrians and other motorists found it difficult during our time. Compared with the red Aventador we sampled a few weeks ago, the Huracan definitely attracts more looks and more thumbs up. In matt black (a $20,300 option), it looks like a Batmobile and stands out as the prowler of the roads. It looks like a troublemaker yet its sinister nature sucks you in. This is not the kind of car you want to bump into in a dark alley, put it that way.

We love the intricate Y-shaped LED taillights and matching headlights, and the massive side air intakes in the front end, as well as the chunky-as-hell diffuser section at the back. It's almost like it doesn't have a rear bumper bar; it's either bodywork or part of the diffuser. The roofline is incredibly low (1165mm), like a true supercar, and the partially-exposed engine is like a fine lady lifting her skirt to show some leg – buyers can also option for a glass engine cover for the full see-through experience ($10,100 – comes with carbon fibre trim). We think it is spectacular to behold. Park it next to any mainstream car or even a decent sports car and this thing stands out like nothing else.
On the inside it is similarly emotional. There are lots of futuristic shapes and angles, with flush buttons making up most of the dash fascia, and a lineup of toggle switches running across the top. Seating is positioned extremely low, making it far from practical getting in and out, and visibility through the rear is minuscule. It's definitely a supercar.
Lamborghini decided to take modernity to the next level with the Huracan by placing the on-board infotainment screen into the instrument cluster. We're not a fan. We can understand having the sat-nav screen displaying info and directions right in front of the driver. But we don't think the driver should be fussing around with media menus and tone settings; this should be left to the passenger. With this setup it's almost impossible for the passenger to make any sort of changes while peering through a moving steering wheel. The graphics are excellent though and the menus themselves are well presented, borrowing from Audi's MMI system.
Firing up the V10 unit is a real event. To do this you have to engage the jet-fighter-style ignition switch, including lifting the safety latch. It bellows and crackles into life, like proper Italian exotica. You only need to breathe on the throttle to listen to its vocal range; from a masculine tenor during chorus, to a high pitch soprano power ballad, before settling to a deep baritone burble. You can spend considerable time just playing the Huracan's engine like an instrument. And if you hit the Corsa driving mode, one of three (Strada, Sport, Corsa), you open the exhaust valve so everything is turned to full-blast.
This brings us to the driving modes. Lamborghini calls it ANIMA (Adaptive Network Intelligent Management). Selecting the different modes alters the exhaust, magnetic dampers, active steering, the all-wheel drive delivery, and the behaviour of the seven-speed dual-clutch automatic. Each of these modes offers a highly noticeable difference to the car's character, making it as focused and stiff as a motorsport vehicle, or as relaxed and comfortable as a serious sports car.
With this functionality, yes, the Huracan is more practical than any other model. But this means you can drive it to work or to the shops, if you want to. Mind you the car does stand out a bit parked at your local shopping centre. The width (1924mm) and overall driveability is manageable enough for easy parking though.
Speed bumps continue to be a supercar's worst enemy. Fortunately the Huracan comes with a standard nose-raising suspension function which lifts the front spoiler 4cm. This helps out a lot and it only takes a second or two to raise enough to clear most driveways and speed bumps. It can be engaged or disengaged while on the go, although it will lower automatically when you reach 70km/h or beyond.
If you're considering buying a supercar you probably like driving, and driving fast. This is where the Huracan can really liven up your day. It is mind-blowingly quick up through the gears. We were fortunate enough to secure a piece of private road to really explore the V10's performance, and test out the launch control system.
From a standing start with launch control, this thing takes off with absolutely no hesitation or grip loss. It just shoots off like a determined machine. Lamborghini says 0-100km/h comes up in 3.2 seconds, and 0-200km/h in just 9.9 seconds. The sensation and g-force involved with performing such sprints sends goosebumps over every millimeter of your body, including your scalp. Even your organs and muscles quiver with excitement. It is an unforgettable experience.
In the loan agreement it strictly said we must not undertake any "performance tests", as with the Aventador we reviewed earlier. After observing our footage of the 0-100km/h demonstration run, which we did only to show you and not to test the time (making sure we make that clear), we think the Huracan might actually be a tiny bit quicker than the beastly V12 Aventador (2.9 seconds). We put this down to the sheer lightning-quick response of the engine and the incredible speed of the dual-clutch transmission.
When it comes time to turn a corner, the Huracan feels wonderfully light and agile on its toes. You can pinpoint exactly where you want the wheels to be, and there is a real connection offered to the driver through the steering. The all-wheel drive system means you can hit roller-coaster-like g-forces around corners too; it grips up and slingshots you around with severe confidence and ability. It is nothing short of amazing.
Imagine having the agility of a go-kart and the power of a V10; this is pretty much what you're getting with the Huracan. Sure, if you push it hard enough understeer does come into play, after all, it is all-wheel drive. But with so much power and response, this is probably something you'll be glad to deal with as opposed to grip, grip, grip, and then sudden oversteer.
As for the criticism the Huracan has received from some other media outlets, which are, let's face it, ran by critiquing journalists and not necessarily car and driving enthusiasts, the Huracan is easily quicker and more capable than the Gallardo it replaces. Around Top Gear's test track the Huracan actually achieves a quicker lap time than the V12 Aventador. It's also around 3.0 seconds quicker than the Ferrari 458, and a second quicker than the almighty 882kW Bugatti Veyron Super Sport. In our opinion the Huracan is a healthy, evolutionary step above the Gallardo in every way.
Lamborghini Huracan LP610-4 – THE VIDEO
Lamborghini Huracan LP610-4 – THE VERDICT
Lamborghini has no doubt made the Huracan purposely appeal to a wider range of buyers compared with its previous models, so it sells more of them. Does that mean it has lost the 'Lamborghini' character? Well, it is insanely quick. It invigorates all of your senses, and it expresses seductive passion from every angle. In other words, it does everything a supercar should. We love the Huracan so much we would actually buy one over the Aventador. And in matt black. Unfortunately, we don't have the money to buy either.
PROS:
– Free-revving/high-revving engine; pin-sharp response
– Insane acceleration
– Light and nimble handling
– Looks epic in matt black
– Dual-clutch transmission

CONS:
– Infotainment system placed behind steering wheel
– Tiny boot
– Lots of 'regular' plastic used around engine bay; more exotic materials are optional
Lamborghini Huracan LP610-4 – THE SPECS
Engine: 5.2-litre V10
Output: 449kW@8250rpm / 560Nm@6500rpm
Transmission: Seven-speed dual-clutch auto
Drive type: All-wheel drive
Wheels: F: 20×8.5, 245/30  R: 20×11, 305/30
ANCAP: Not tested
Tare weight: 1474kg
Power-to-weight: 3.2:1 (kg:kW)
Official fuel economy: 12.5L/100km
Economy during test: … (not too bad)
Fuel capacity/Type: 80L/98 RON
Power efficiency: 35.9kW:L/100km
0-100km/h (claimed): 3.2 seconds
0-200km/h (claimed): 9.9 seconds
Priced from: $428,000