Lightweight sports car specialist KTM is planning to shoehorn Audi's barking brilliant 2.5-litre turbo five-cylinder engine into a future X-Bow variant. This would make it easily the quickest and most powerful model the company has ever made.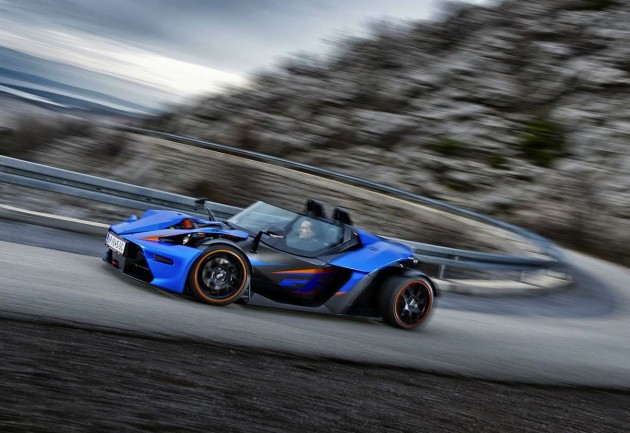 In various forms, the X-Bow comes with an Audi 2.0-litre TFSI turbocharged four-cylinder, producing from 177kW to 224kW. Speaking with evo magazine at the Geneva Motor Show, KTM CEO Stefan Pierer revealed a high-powered variant is in development.
Pierer said the company has received an offer from Audi regarding the use of its 2.5-litre five-cylinder engine. Although Pierer said the engine would be used for racing applications, there is a high possibility the unit would also be incorporated into an upcoming road car.
"We are running the first prototypes and you may see it within the next year in some specific races. That five-cylinder engine is very compact and fits perfectly in our chassis with a little extra wheelbase. We have some prototypes with a twin-clutch gearbox, too."
The standard 2.5 turbo is featured in the current Audi TT RS producing 250kW and 450Nm. It's capable of propelling the TT from 0-100km/h in the low 4.0-seconds region. The TT RS weighs 1450kg.
In the KTM X-Bow, which weighs around 790kg in its current 2.0-litre form, the 2.5 engine would provide simply astonishing performance and acceleration. Pierer even speaks of tweaking the engine up to produce as much as 350kW. Now that would be a truly incredible driver's car.