KPM Motorsports offers a 390kW Stage 2 upgrade for all 4.0-litre turbo Ford FG Falcon models, including the XR6 Turbo, G6E, and FPV F6 variants. The Stage 2 kit is the tuning company's most popular bolt-on kit for the turbo FG range.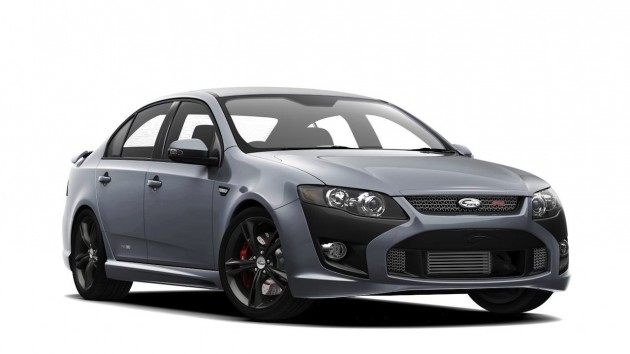 KPM Motorsport FG XR6 Turbo, G6E, F6 390kW Stage 2 – information on kit:
The package is designed to vastly improve performance of the FG's already potent 4.0-litre turbocharged straight-six engine. Power gains are made by carefully swapping out factory parts, and replacing them with aftermarket performance items. The car is then tuned on KPM's in-house dyno.
The somewhat restrictive factory exhaust and catalytic converters are swapped out for a less restrictive system with the Stage 2 upgrade, and the injectors are replaced by larger items to ensure fuel delivery isn't a problem. A Streetfighter cold air intake system and KPM intake Stage 2 piping kit also helps to maximise air flow.
KPM offers the kit for both six-speed manual and six-speed automatic variants (six-speed automatic models receive a transmission tune upgrade for improved performance as well).
The upgrade completion time is approximately one working day. Any specific changes or needs can be discussed with KPM staff.
KPM Motorsport FG XR6 Turbo, G6E, F6 390kW Stage 2 – parts used:
KPM stainless steel 3.5-inch exhaust
Six KPM 1000cc injectors
Streetfighter cold air intake system
KPM intake Stage 2 piping kit
Spark plugs regapped
SCT Ford flasher box
KPM custom tune on dyno
Transmission tune upgrade (automatic only)
Optional extras are available too, including an intercooler upgrade, and a differential gear change – 3.46:1, 3.73:1, and 4.1:1 gears. These do cost extra – call for exact prices on your specific model.
KPM Motorsport FG XR6 Turbo, G6E, F6 390kW Stage 2 – estimated power figure:
390kW at the flywheel/300kW plus at the wheels*.
*Power figures are indicative only

KPM Motorsport FG XR6 Turbo, G6E, F6 390kW Stage 2 – price:
$8639** including factory warranty protection (see KPM Care Limited Driveline Warranty), or $7699** excluding factory warranty protection.
**Prices subject to change
Workshop details: KPM Motorsport
KPM Motorsport was founded in 2002 and is based in Adelaide, South Australia. The company specialises in Australian, European, and Japanese vehicles, offering performance upgrades, custom engine building and modifications, motorsport preparation, and more.
Contact:
Phone: (08) 8299 9998
Fax: (08) 8299 9665
Email: info@kpmmotorsport.com
Website:
www.kpmauto.com
Address:
257 Goodwood Road, Kings Park, South Australia 5034 (map shown below)