After a powerful production car? Look no further. Koenigsegg has just come up with the perfect answer for you, the new Regera 'megacar'.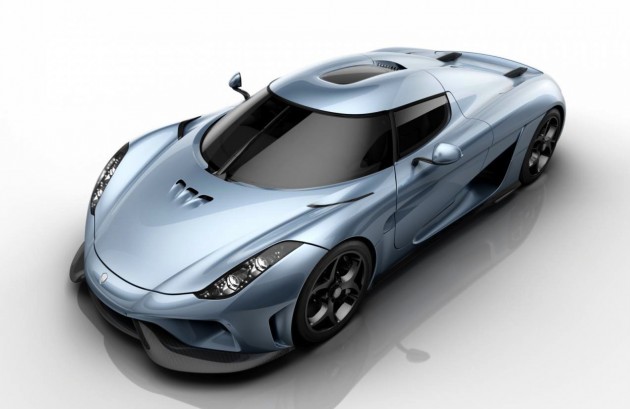 It's labelled a megacar as it produces more than 1000kW. Yep, 1 megawatt of power. That's the energy of 1000 microwave ovens, or five Holden Commodores. This colossal grunt comes from a 5.0-litre V8 engine producing 820kW (1100hp) and 1250Nm, supported by three electric motors that offer a combined output of 515kW. Pair it all together and the result is "way over" 1500hp, or 1119kW, and over 2000Nm of torque.
At this level of power it becomes difficult to understand just how a road car could translate that into forward thrust without ripping the tyres from the rims. As such, the Swedish manufacturer hasn't released any 0-100km/h times, however, it has said it can cover 0-400km/h in under 20 seconds.
Aside from the mind-blowing power, the Regera also showcases a number of industry-first and quite clever technologies. For starters, the car uses a number of lightweight hydraulic components which have been developed at minimal weight impact. These control the various aerodynamic wings and spoilers, and also the doors and latches. Koenigsegg calls it the world's first fully robotised car. Most of these systems can be controlled via a smart phone as well.
At the back is another world's first; a fully foldable active rear wing. The unit is made from carbon fibre and can be folded down into the bodywork for a sleek parking stance. It's been designed to provide maximum downforce at speed.
Other cool highlights include active mounts for the transmission and engine that can cater to certain demands, as well as the ability to drive in fully electric mode using zero petrol. It also features the company's famous 'Dihedral Synchro Helix' doors that swing out and rotate 90 degrees without protruding more than the width of the door itself.
Perhaps the most interesting aspect to the car though is some called Koenigsegg Direct Drive. It's basically a one-gear transmission that works with the hybrid setup for absolute minimal drivetrain energy loss. The company explains,
"The patent pending KDD system replaces the combustion engines traditional transmission and gives the added benefit of pure EV mode. What is unique is that the KDD manages to create direct drive to rear axle from the combustion engine without the need of multitude gears or other traditional types of variable transmissions, with inherently high energy losses.

"During highway travel, for example, the KDD reduces drivetrain losses, compared to traditional transmission or CVT by over 50 per cent, as there is no step up or step down gear working in series with the final drive – just direct power transmission from the engine to the wheels."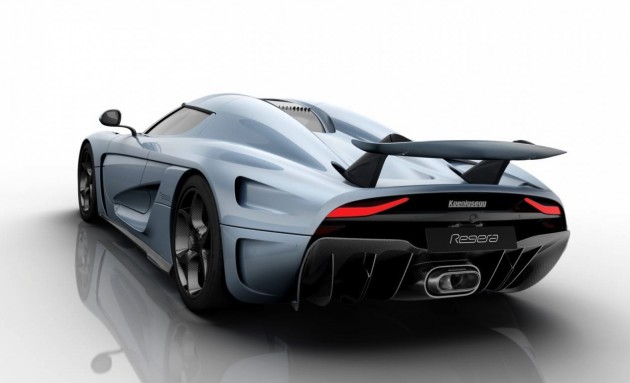 Koenigsegg is planning to make just 80 examples of the epic Regera. We can't wait to see some video footage of this car and hopefully a review of some kind. What a machine. See below for the brief specifications:
Powertrain stats
1100HP of combustion engine power on 91 octane DIN or 95 octane RON  (a bit more on E85)
1250Nm of combustion engine torque
700HP of electric propulsion
900 Nm of electric torque
9 kWh 620 Volt, flooded liquid cooled battery pack
Combined numbers
Over 1500HP or 1.11 MW
Over 2000Nm of torque
Dry weight 1420 kg
1628 kg curb weight (including all liquids and full fuel tank)