Kia has unveiled Kia Optima SX World Challenge race cars at the 2011 Los Angeles Auto Show. The two cars will be used in the 2012 Pirelli World Challenge Championship, along with the Kia Rio B-Spec race cars revealed at the 2011 SEMA Show.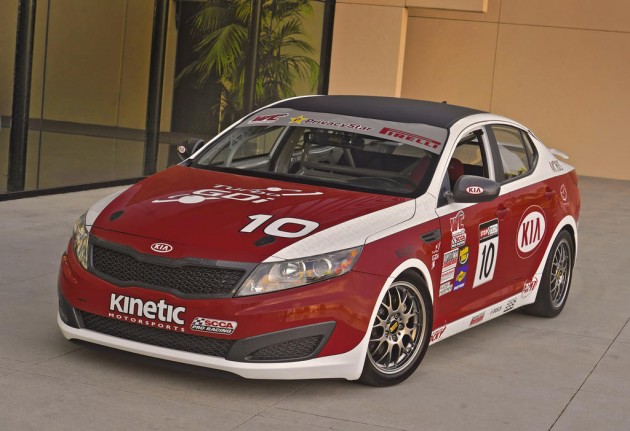 It's good to see Kia getting into motorsport, as the company could provide doorways for those of us who don't necessarily have garbage bags full of money sitting around to buy a Porsche 911 GT3 RSR race car.
The Kia Optima SX World Challenge race cars are built by Kia and Kinetic Motorsports, and feature turbocharged engines producing 204kW. They also feature a full race outfit with a comprehensive roll cage system inside, as well as a racing bucket seat. The outside gets spoilers and body revisions to suit racing.
Other highlights include lowered racing suspension, lightweight BBS alloy wheels wrapped in slicks, and various bits of carbon fibre to shave some weight. There's a carbon grille, intakes, side mirrors, and rear apron.
The two versions will race in the GTS class (Grand Touring Sport) of the 2012 World Challenge. Drivers are yet to be announced.