Kia and Twentieth Century Fox have teamed up to promote X-Men: Days of Future Past DVD, and Kia's sponsorship of the 2015 Australian Open, with the creation of a one-off 'X-Car' X-Men-inspired Sorento concept.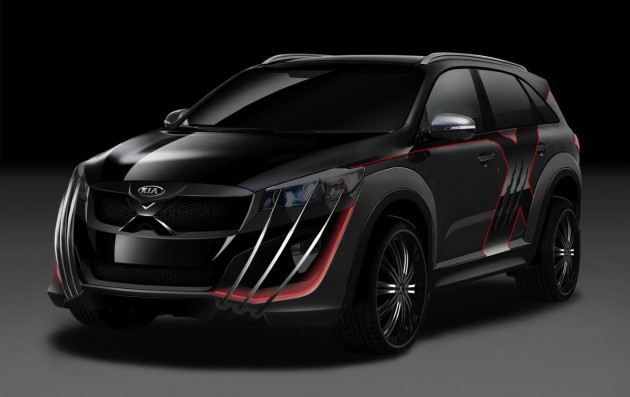 Kia and Fox will reveal the special Kia Sorento concept a week before the major tennis tournament commences. The honour of unveiling will be given to tennis star Rafael Nadal, Kia's 'superhuman' brand ambassador. The automobile manufacturer will release a video on Facebook and YouTube in mid-December, showing Nadal and the X-Men car taking on evil robotic antagonists from the latest film who are threatening the Australian Open.
Before the big reveal though, Kia Motors is inviting fans ,or basically anyone who loves winning stuff, to guess which character has inspired the SUV's design – Storm, Wolverine, Mystique or Magneto? Everyone who gives the right answer enters a prize draw to win a DVD copy of X-Men: Days of Future Past.
The X-Car is painted in glossy black with customized X-Men graphics. It gets a slightly different grille with a subtle 'X' in the centre and its front and rear features Wolverine's claws. The Kia X-Car will be on display at Melbourne Park throughout the duration of the Australian Open, which takes place between January 19 and February 1, 2015.
The all-new Sorento was presented to the world earlier this year in Seoul, South Korea. The mid-size crossover combines style, practicality and technology, according to Kia. It goes on sale next year.