A prototype version of the much-rumoured Kia GT sports car has been spotted for the first time, giving us all a final confirmation that there will be a production version.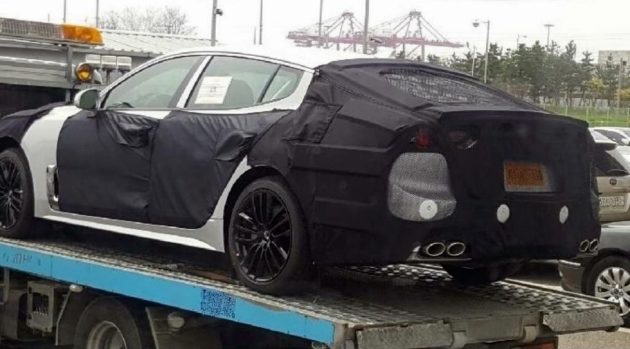 Kia unveiled the GT sports sedan as a concept car way back in 2011. Since then, there have been various reports and rumours about a potential production model, with plenty of hints via company insiders.
It seems development is well and truly underway now, with this prototype snapped near Hyundai's design centre in Irvine, California. It shows a prototype being transported.
Although it is wearing plenty of black cladding to protect the design from the public, the prototype is clearly inspired by the concept car. We can see a swooping roofline to give it that fashionable four-door coupe layout, along with bolstered wheel arches for a low and fat stance.
The image, first appearing at motorgraph.com, shows the prototype with large alloy wheels in black, likely hiding some big brakes, while the rear showcases quad-outlet exhausts indicating its performance-focused intentions.
Speaking of performance, no specifics have been confirmed at this stage, however, there is a strong reason to believe it will feature a new 3.3-litre twin-turbo V6. The V6 is expected to become a replacement for Hyundai's 'Lambda' 3.8-litre V6 or even the 'Tau' 5.0-litre naturally aspirated V8.
Outputs are said to top out at around the 300kW mark, along with about 530Nm. This should be a very worthy unit for the Kia GT, as well as for Hyundai's future Genesis sedans.
A hybrid model is rumoured to be in the works as well, pairing a four-cyinder engine with an electric motor assist system. But this is still early speculation at this point, with the finer details yet to surface.
Kia is tipped to unveil the production model at this year's Paris motor show in October. Market entry is then likely to take place next year. It's unknown if it will ever make it to Australian shores.