Jason Richards, former V8 Supercar racing driver, died in Melbourne yesterday after a year-long battle with cancer. His family made the announcement earlier today.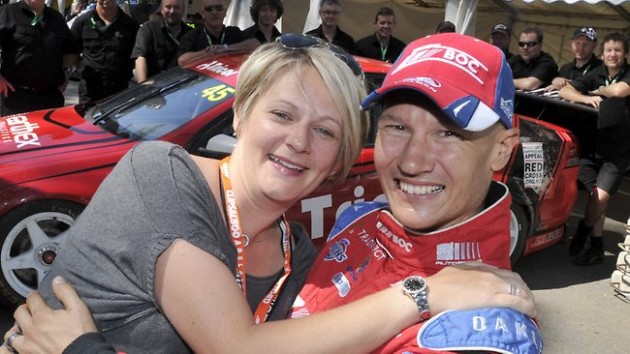 Jason Richards was a passionate New Zealand-born racing car driver who moved to Australia to advance his career as a highly competitive V8 Supercar driver. He came second at the famous Bathurst 1000 three times teamed with various pro drivers such as Jamie Whincup (2005), Greg Murphy (2008), and Cameron McConville (2009).
Richards was such a keen racer he competed in various races even while battling with cancer, taking part in the Australian Grand Prix, non-Championship event of the 2011 Australian V8 Supercar Championship Series at the Albert Park, in March.
The official family statement reads:
Champion V8 Supercar driver Jason Richards passed away peacefully at home with his wife, Charlotte by his side at 8.00pm last night (Thursday, 15 December 2011).

He was just 35 years old.

Jason's family is appreciative of the many thousands of people who have offered their love and support during his battle with illness over the past 14 months.

A memorial service to honour Jason and his career will be held at Sandown in the coming weeks.

The family requests that their privacy be respected during their time of grief.
While a team statement also released, reads:
In the competitive world of V8 Supercars Jason was a rare breed – a driver that could tread the fine line between rivalry and friendship. He was never secretive, selfish or bad-tempered and had endless enthusiasm and energy for his job and team.

The history books will not do him justice. Given the right equipment JR was easily a front-runner but chose team loyalty over personal gain, determined to work with his crew to reach the front of the grid together.

Through the highs and lows of racing, JR's uplifting presence and casual, self-effacing wit were unwavering and his effect he had on team morale is irreplaceable.

He will forever be a member of the Jones family and this is a tragic day in the team's history.
We will update this story very soon with a more in-depth showcase of Jason Richard's racing career and his life as a passionate car enthusiast.