Jaguar has confirmed its upcoming mid-size sedan, called the XE, will be available with the supercharged V6 engine from the cracking F-Type.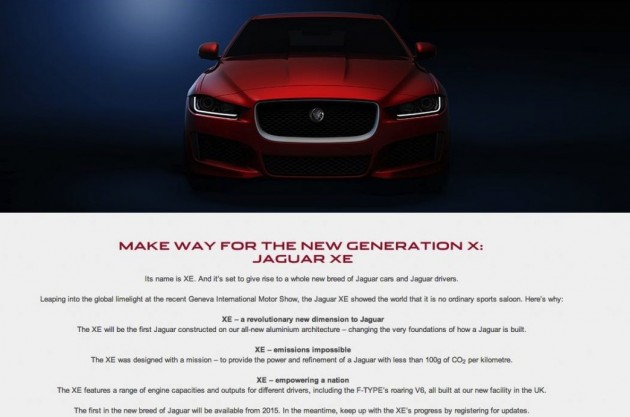 As previously reported, the new Jaguar will be called the XE, following in the company's tradition of starting model names with an X. It will sit beneath the current XF in the showroom, ready to take on vehicles such as the Audi A4, BMW 3 Series and Mercedes-Benz C-Class.
Featuring the supercharged V6 from the F-Type will certainly be a good thing for the mid-sizer as it will give it a very sporty edge over its competition. The engine sends out a splendid soundtrack too, while offering impressive power and reasonable fuel economy figures.
It's unknown what tune will be used for the XE. In the F-Type, the V6 is available in two states of tune, with 250kW and 280kW options. A range-topping version of the XE is likely use the 280kW unit.
In other areas of the range, the XE is expected to come with a 2.0-litre turbo-petrol option (derived from Ford's 179kW EcoBoost unit), as well as a small capacity turbo-diesel four-cylinder with ultra frugal consumption figures.
All is set to be revealed later this year, before hitting the market in 2015. It will be the first new-generation Jaguar to hit the market using the company's latest aluminium monocoque architecture.