Jaguar Australia has announced pricing for the sexy new Jaguar F-Type. The new sports car will be available in three trim levels, including the F-Type, the F-Type S, and the mighty F-Type V8 S.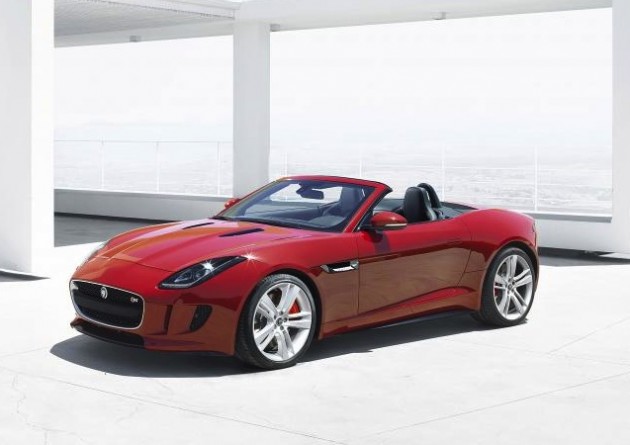 Inspired by classic Jags such as the E-Type, the F-Type is Jaguar's all-new halo sports car, set to take on the likes of the Porsche 911. The car has so far been highly praised all around the world and it has already picked up a few awards, with its striking design, powerful range of supercharged engines, and great driving dynamics.
With three variants to hit the showrooms, including the entry-level with its 250kW supercharged V6, to the S with 280kW, to the flagship 364kW V8 S with its 5.0-litre supercharged V8, the car is sure to be very popular Down Under. Mark Eedle, Jaguar Australia's brand manager, recently spoke about the model, saying,
"Contemporary, evocative and progressive, the F-Type has been engineered to deliver pure dynamic driving reward and stunning performance."
All variants come with stop-start technology to aid fuel economy (figures not yet confirmed).
The base model is capable of 0-100km/h in 5.3 seconds, followed by just 4.9 seconds for the S, and 4.3 seconds for the V8 S.
The F-Type is scheduled to hit Australian showrooms in August, however, orders are being taken now. See below for further specifications:
F-Type
Engine: 3.0 Litre V6 250kW supercharged [etrol
Acceleration: 0-100 km/h 5.3 seconds
Top Speed: 260 km/h
Emission: CO2 209 g/km
Standard equipment includes
Jaguar Performance braking system with silver calipers
Sports suspension
Sports exhaust
Centre mounted twin exhaust pipes
18-inch Vela alloy wheels
Sports seats with leather and suedecloth facings
Three-spoke leather steering wheel with black gear shift paddles
Light Hex aluminium console finisher
F-Type S
Engine: 3.0 Litre V6 280kW supercharged petrol
Acceleration: 0-100 km/h 4.9 seconds
Top Speed: 275 km/h
Emission: CO2 213 g/km
Standard equipment includes
Jaguar Performance braking system with red calipers
Sports suspension and Adaptive Dynamics
Active sports exhaust
Centre mounted twin exhaust pipes
19-inch Propeller silver alloy wheels
Limited-slip differential
Sports seats with leather facings
Three-spoke leather steering wheel with Ignis gear shift paddles
Dark Hex aluminium console finisher with 'S' graphic
Configurable ambient interior lighting with selectable palette
F-Type V8 S
Engine: 5.0 Litre V8 364kW supercharged petrol
Acceleration: 0-100 km/h 4.3 seconds
Top Speed: 300 km/h
Emission: CO2 259 g/km
Standard equipment includes:
Jaguar Performance braking system with red calipers
Sports suspension and Adaptive Dynamics
Active sports exhaust
Quad exhaust pipes
20-inch Turbine silver alloy wheels
Electronic active differential
Sports seats with leather facings
Three-spoke leather steering wheel with Ignis gear shift paddles
Dark Hex aluminium console finisher with 'S' graphic
Configurable ambient interior lighting with selectable palette
Full pricing is as follows (excluding on-road costs):
Jaguar F-Type – $139,000
Jaguar F-Type S – $171,400
Jaguar F-Type V8 S – $202,300