Jaguar has officially unveiled the sexy new F-Type Coupe simultaneously at the 2013 Los Angeles International Auto Show and the 2013 Tokyo Motor Show. The new coupe will join the F-Type Convertible in the showroom next year.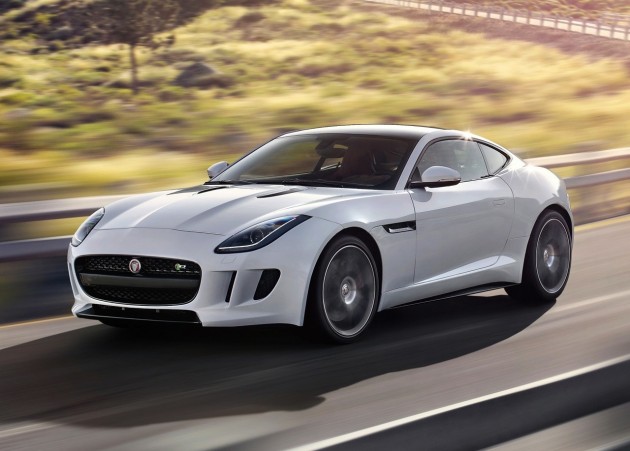 Showcasing three main variants in the lineup, including the F-Type, the F-Type S, and F-Type R, each come with a powerful supercharged engine to give the rivals a good run for their money.
The entry-level comes with the 3.0-litre supercharged V6 as seen in the roadster, producing 250kW and 450Nm. It's able to hit 0-100km/h in 5.3 seconds with a top speed of 260km/h. Understandably, it offers the best average fuel economy out of the three, rated at 8.8L/100km.
Next up, the F-Type S features a more potent version of the V6 mentioned above. It produces 280kW and 460Nm, capable of 0-100km/h in just 4.9 seconds. Fuel economy is rated at a respectful 9.1L/100km.
At the top end of the range is the F-Type R. Clearing up the previous speculation that Jaguar might introduce an 'RS' version, the R slots in as the high performance model even above the 364kW roadster V8 S.
Power comes from a 5.0-litre supercharged V8 producing 404kW and 680Nm, with 0-100km/h coming up in just 4.2 seconds. It's also capable of a top speed of 300km/h, which is electronically limited. Fuel economy is rated at 11.1L/100km.
In terms of design, the F-Type Coupe borrows the same stunning foundations as the convertible, with muscular rear haunches, a pouncing front end and an elegant roofline. Boot space is larger than in the convertible, with 407 litres on offer compared with 196 litres.
Thanks to the inclusion of C-pillars and a fixed roof, the F-Type Coupe showcases an extremely strong and rigid body shell. Its torsional rigidity is rated at 33,000Nm/degree, which is greater than any other Jaguar production car ever made.
As a result, the F-Type is expected to offer brilliant driving dynamics. Jaguar has incorporated an electronic active differential for the R version, as well as torque vectoring – a first for a Jag – and bespoke sports suspension with adaptive dampers for the R. The R and S variants will also be available with carbon ceramic disc brakes as an option, saving 21kg.
Prices on the new model are yet to be announced, however, the entry level variants are likely to be slightly cheaper than the equivalent convertible which kicks off at $138,645. Jaguar says the coupe will arrive in Australia during the third quarter of 2014.