One of Australia's favourite seven-seat SUVs, the Isuzu MU-X, will compete in next year's Dakar Rally in South America, prepared by Isuzu Motorsports. It will be the first time the MU-X competes in the arduous event.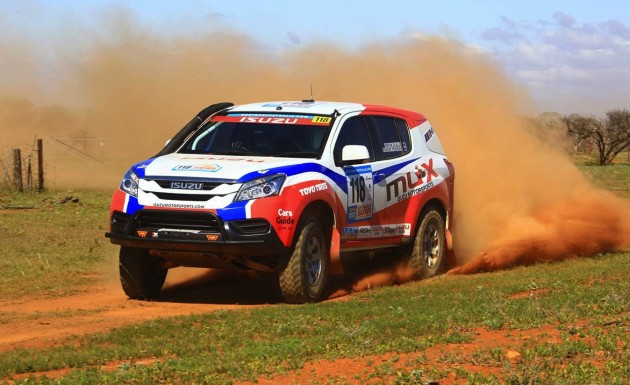 The MU-X will take on rivals in the International T2 class, which is for production-based vehicles. This means the rally version will be based on the normal showroom model only it comes with a modified version of the standard 3.0-litre turbo-diesel engine.
For racing, the engine is boosted to produce 180kW of power and a monster 600Nm of torque – quite a big step from the regular 130kW/380Nm output. Most of the interior and underbody is also modified to suit vigorous rallying, with additions such as a roll cage, beefier suspension, and protective plating.
Isuzu has been testing the setup in various local and overseas rally events this year, including in the Finke Desert Race. However, nothing can compare with the sheer torture of the 8500km Dakar. The rally tours through remote parts of Argentina, Chile, and Bolivia. Around half of all entries (around 715) don't make it to the finish line.
As for the drivers, Adrian Di Lallo will take the helm with five-time Dakar expert Harry Suzuki taking spot as the navigator. Di Lallo finished 38th last year driving a modified D-Max ute. He said,
"I'm very excited about driving the new MU-X … it feels really strong and stable – a credit to the boys who've prepared it. The car's got what it takes to finish, obviously it'll be really challenging, but we have the right equipment and a very good chance at placing well in the production class and we'll be doing our absolute best."
All of the action starts on January 4, 2015, and it doesn't finish until January 17. It will be the 35th Dakar. Head over to our Isuzu MU-X review and video for more details on the standard model.