It might seem like you've already seen this vehicle, but in fact this is the first time Infiniti has shown the new QX30 small luxury crossover. It has just made its debut at the Los Angeles Auto Show.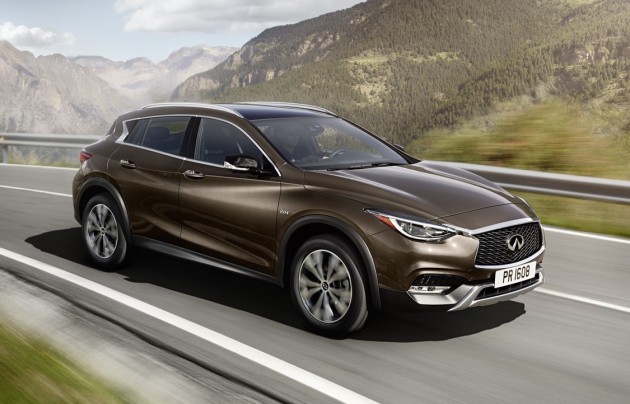 There have been various concepts and of course the Q30 hatch, but this is the production version of the crossover variant. It is predictably mostly the same as the Q30 only the ride height is raised and there's a few rugged-style design revisions such as black plastic cladding around the wheel arches.
Like the Q30, the QX30 is based on the Mercedes-Benz A-Class, and in fact the GLA-Class which is a jumped up version of the A-Class. The body showcases Infiniti's unique styling language as previewed by the QX30 concept from earlier this year.
This is a very exciting model for the luxury Nissan-owned brand, as it is the first small crossover the company has ever introduced. It will compete with the likes of the BMW X1, the Audi Q3, and even the Mercedes-Benz GLA. It should bolster the brand's overall appeal by attracting new customers, potentially increasing global sales.
Powertrain options are yet to be confirmed but it's probably a good bet that it will come with a similar range given to the Q30. These include a 1.6-litre turbo generating 90kW and 115kW, to a range-topping 2.0-litre turbo Mercedes engine producing 155kW. A diesel lineup is also expected, topping out at a 2.2 developing 125kW.
The Infiniti Q30 and QX30 will go on sale next year. Australian specifications and prices are yet to be announced.