Infiniti has unveiled the new Q60 sports coupe which replaces the old G37 coupe. It joins the refreshed Infiniti range, showing off the company's latest design language.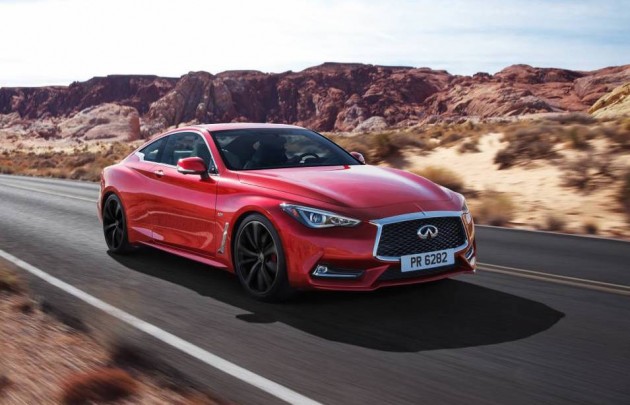 You could describe the Q60 as the coupe version of the Q50 sedan. It features a front-engine, rear-wheel drive layout underneath (all-wheel drive optional), with technology such as adaptive electric steering and Dynamic Digital Suspension ensuring an engaging and exciting drive experience.
Power comes from Infiniti's new VR engine family consisting of a 3.0-litre twin-turbo V6. Customers will be able to select between 224kW and 298kW tunes. A 2.0-litre turbo will also be offered, generating 155kW and 350Nm. All come with a seven-speed automatic transmission.
Infiniti says the standard suspension setup, shared with the system on the Q50 sedan, has been designed to offer low road noise and minimal vibrations while still allowing a direct and linear handling response. Some of the linkage layouts are bespoke to the Q60, and the dampers are relocated for a coupe ride.
Customers that option for the Q60 Sport grade receive the Dynamic Digital suspension which brings selectable settings, including Sport and Sport+ modes for increased handling response.
Inside, the Q60 is finished in aluminium trimmings with optional Blackwood, and carbon fibre for the Sport and Premium grades. There's also a 13-speaker Bose sound system with specially tuned acoustics for the Q60 cabin, sports seats, and Infiniti's InTuition touch-screen interface.
The new model is set to make a pretty big mark on the sports coupe market segment. In fact, the company is even going as far as saying the Q60 will establish the brand as the global leader in premium sports coupes. Infiniti vice president Francois Bancon said:
"The new Q60, our third-generation sports coupe,will ensure Infiniti's position as a leader in the segment.
Premium customers around the globe love a sports coupe that offers power, performance and prestige –
and the Q60 delivers on all three fronts."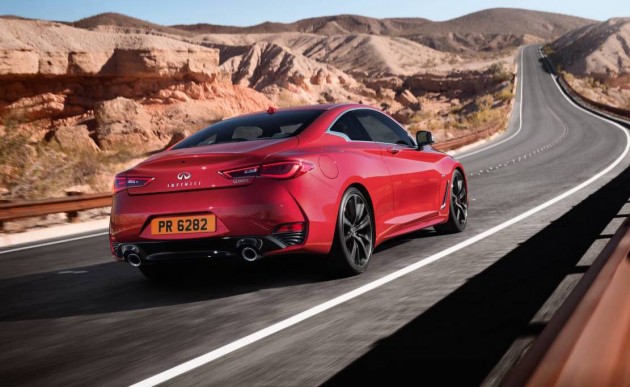 Infiniti Australia has confirmed the new Q60 will go on sale in the country later in 2016. Local specifications and trim levels are yet to be announced.