Hyundai has shown a teaser of its upcoming Prius rival, called the IONIQ. This will be the company's first dedicated hybrid and electric vehicle when it arrives next year.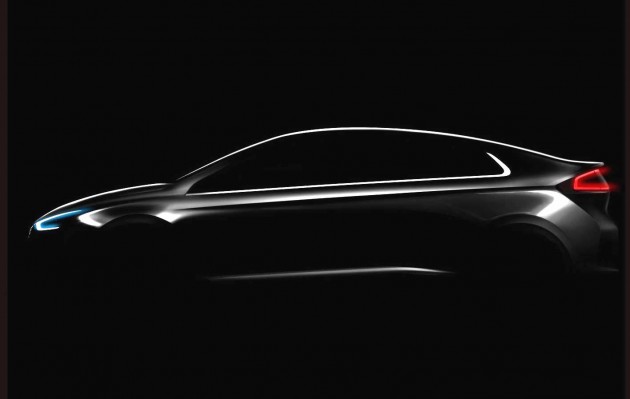 While looking decidedly more car-like than its arch-rival, we can see elements of Chevrolet (Holden) Volt in the high rear deck and rear light treatment. Judging by the overall silhouette and front light treatment, Hyundai is aiming to give the car a more athletic edge than its rivals. Spy shots not available to us show a more conventional and sporty interior.
Showcasing an all-new platform, the IONIQ will be available as a full EV, conventional hybrid or plug-in Hybrid. Hyundai is clearly hedging its bets in three directions here, offering a more diverse array of powertrain options than Prius. The EV version will offer a high-capacity lithium-ion battery, while the hybrid and PHEV versions will supplement this with a petrol engine.
According to Hyundai, the name is the combination of ion, "an electrically charged atom, linking to the car's clever combination of electrified powertrains", while the rest of the name "acknowledges the fresh approach of this advanced, low-emission model".
Debuting in South Korea in January, the IONIQ will also do the rounds at the Geneva and New York Motor Shows next March.  Hyundai Australia has confirmed the model will go on sale locally during the second half of 2016, with at least the hybrid version. In a statement today, Hyundai Australia said:
"IONIQ will launch in Australia in the second half of 2016, starting with the petrol/electric hybrid powertrain. Hyundai Motor Company Australia is also keen to secure the plug-in petrol/electric hybrid variant for down under, when it is launched globally, however the business case is still under review. Pricing and specification will be confirmed closer to the local launch next year."