Shots are fired as Hyundai unveils its competitor in the all-important small SUV segment, with the new Kona. The Kona will give the South Korean brand a competitor to the Nissan Juke, Mazda CX-3 and Toyota C-HR, to name a few.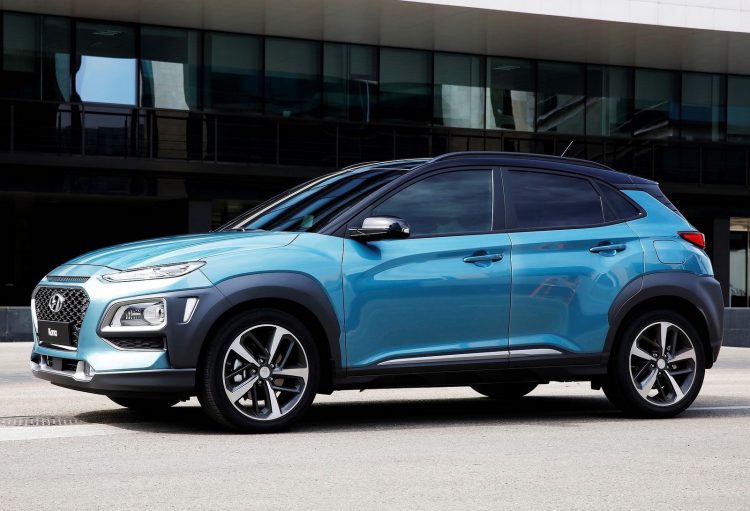 Kona measures 4165mm long, 1800mm wide, 1550mm tall and sits on a 2600mm wheelbase. Like some players in its class, Kona majors on bold styling elements, including a prominent grille, two-tier headlamp design and aggressive taillights.
The crossover will land in Australia around October, powered by either a 2.0-litre MPI with 110kW and 179Nm, or a 1.6-litre GDI turbo generating 130kW and 265Nm. This will endow the Kona with 0-100km/h times of 10.0 seconds or 7.7 seconds respectively, with top speed at 194km/h for the 2.0 and 210km/h for the 1.6 turbo. The turbo engine will make the Kona one of the most powerful SUVs in the class.
Other markets will get a 1.0-litre turbo three-cylinder or a 1.6-litre diesel similar to that in the recently-launched i30, but they will miss out on Australian passports for the time being.
On the tech front, Kona will be available with autonomous emergency braking, lane departure warning, high beam assist, cross-traffic alert and fatigue monitor. Depending on variant, a 5.0-, 7.0- or 8.0-inch touch-screen infotainment system will be available and panoramic roof will be available on the top spec. A heads-up display (HUD) will also feature on some models.
Front- and all-wheel drive variants of the crossover will be available. Stay tuned for more news including local specifications and prices closer to launch.