Two more teasers for the upcoming Hyundai IONIQ electric/hybrid have surfaced, revealing more details and clues about the company's first ever dedicated eco model.
Inside, there is a traditional instrument cluster, infotainment/HVAC layout and gear selector, surrounded by Porsche-like buttons. This is a stark contrast to the rival Toyota Prius and Nissan LEAF, both of which use futuristic, unconventional interiors as a key differentiator.
The interior is said to use eco-friendly materials throughout, with graphics in the instrument panel providing charge and trip information.
Externally, there is a deep shoulder line with low-drag wheels that are designed to look sporty. Overall though, the IONIQ does not push the envelope like some of its rivals.
Earlier this year Hyundai showed its new 1.6-litre Kappa GDI drivetrain that will star in hybrid and plug-in hybrid models. The motor delivers 77kW and 157Nm, operating on Atkinson cycle favoured by most hybrids.
The engine will be joined by a new eight-speed automatic the company hopes to roll out across its range, rather than the CVT of the Prius and Volt. For reference, the 2016 Prius uses a 1.8-litre engine with 72kW and 142Nm, for a 3.2L/100km combined cycle.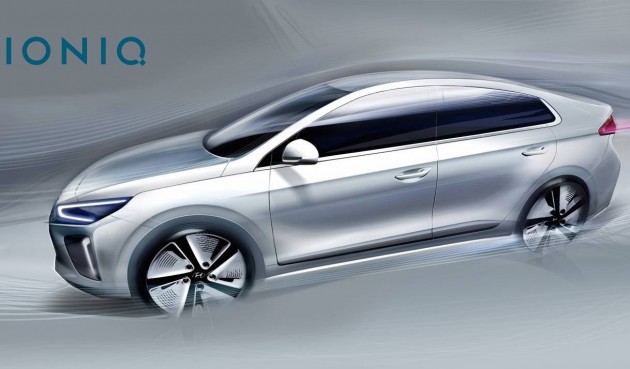 Hyundai hasn't revealed any details about the battery range for plug-in hybrid and EV versions just yet, but for reference the current plug-in Prius is capable of 16km on electric power, while the 2016 Chevrolet Volt manages 80km, thanks to a larger battery pack.
The EV version will need to match the Nissan LEAF's 170km range, and potentially the forthcoming Tesla Model III and Chevrolet Bolt's projected 320km figure.
Full details of the IONIQ are expected when the car is revealed in South Korea in January, followed by showings at the Geneva and New York Motor Shows.