Hyundai has confirmed it will be unveiling the new Hyundai i30 Fastback N at the upcoming Paris motor show in October. It will come in as the third model under the new N performance sub-brand.
The i30 N, Veloster N and i30 Fastback N are the first phase of the production rollout, with more models set to be on the horizon. Hyundai says N vehicles aren't developed for outright performance figures. Instead, the "N experience" is all about getting the driver's heart beat racing. This philosophy could be applied to many vehicles within Hyundai's current showroom to help provide a spicy options for buyers.
Hyundai says BPM are prioritised over RPM in the development of N vehicles, with a fun-to-drive nature standing as the defining characteristic. The i30 N hatchback has been on sale in Australia and Europe for quite a few months now, but it's not available in the US. That's where the Veloster N will come in, as the first N model offered in the market.
As for the i30 Fastback N, it will be offered in Europe and in Australia. It's expected to feature the same 2.0-litre turbo four-cylinder as featured in the i30 N and Veloster N, producing up to 202kW and 353Nm. Unlike the hatchback version, the Fastback N is set to be offered with a seven-speed dual-clutch auto and six-speed manual, although Hyundai is yet to officially confirm.
So, what other models are in store? Hyundai hasn't confirmed anything just yet. Not officially, anyway. But we've heard rumours there could be a Kona N performance small SUV in the works, as well as a Tucson N. It will all depend on how succesful these first three models are.
Sales figures for the i30 N hatchback in Australia were unavailable at the time of writing, but overseas Hyundai says the demand has exceeded initial expectations. In Europe almost 3000 examples of the i30 N were sold in the first six months of the year. And sales in the UK are on track to hit 1000 units by the end of the year, with current sales in the market already 190 per cent above expectations.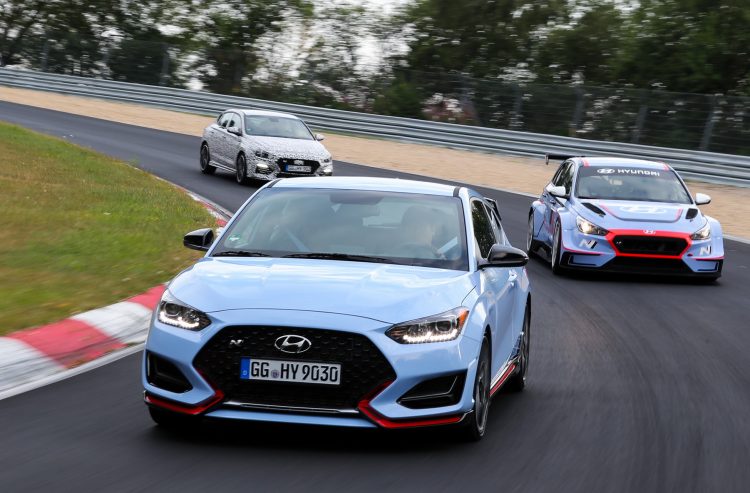 The early signs are certainly good and the future of N models looks bright at this stage. Hyundai says its "full product portfolio" of N vehicles, remembering the three models are only the first phase, will include "outstanding road and race cars". Watch this space.