Rhys Millen Racing and Hyundai have released a Hyundai Genesis Hurricane supercharged coupe teaser image ahead of its 2011 SEMA show unveiling next month.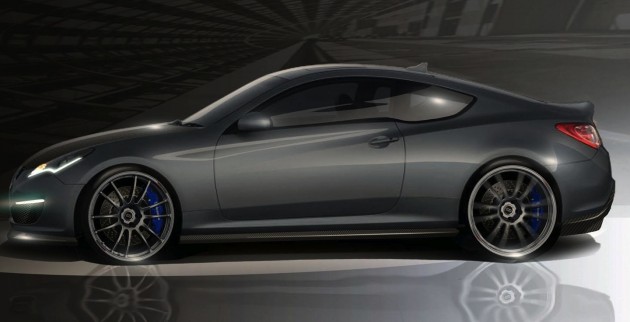 The Hyundai Genesis Hurricane will be a show car concept on show at the 2011 SEMA event in the US next month, featuring a wide range of enhancements over the current model Hyundai Genesis coupe.
On the outside, it features a carbon fibre bonnet and rear diffuser, while the front and rear bumper bars are exchanged for custom-designed items offering a high-performance look. There's also LED headlights and fresh 19-inch alloy wheels.
Under the bonnet is where the main excitement lies however, as the Hyundai 3.8-litre V6 engine gets a HATCI and Magnuson supercharger kit. This pumps enough air into the V6 to provide 336kW of power. David Dutko, senior engineer at HATCI, said in a recent release,
"The HATCI and Magnuson supercharger demonstrates the high-performance potential of Genesis Coupe's V-6 engine – the car was engineered to handle this kind of extra power. Our HATCI engineers have been working for years with Magnuson to ensure high engine output is available on future Hyundai vehicles."
Meanwhile, Terry Peddicord, director, sales, Magnuson Products said,
"The supercharger creates a modest six to seven pounds of boost which generates a 35-45 percent increase in horsepower and torque and can be easily modified to deliver even higher boost levels.

"One of the many exciting aspects of this project is that the Genesis Hurricane SC is not just another pretty face for the show circuit, but rather it is a hard working lab-rat that will push the bounds of this car and the whole vehicle segment."
Other details include a high-performance adjustable suspension setup and Brembo brakes. The complete Hyundai Genesis Hurricane package will be on display at the 2011 SEMA show, starting November 1. Stay tuned for more details.
Also check out:
– 2013 Hyundai Genesis Coupe to feature supercharged V6 – rumour
– 2012 Hyundai Veloster turbo concept to be unveiled at SEMA show
– 2012 Hyundai Genesis Coupe spotted? Australian release confirmed