The V8 'Tau' engine powering the US-spec Hyundai Genesis could soon be replaced by a twin-turbo V6, all in the name of reducing overall showroom fleet emissions and fuel consumption.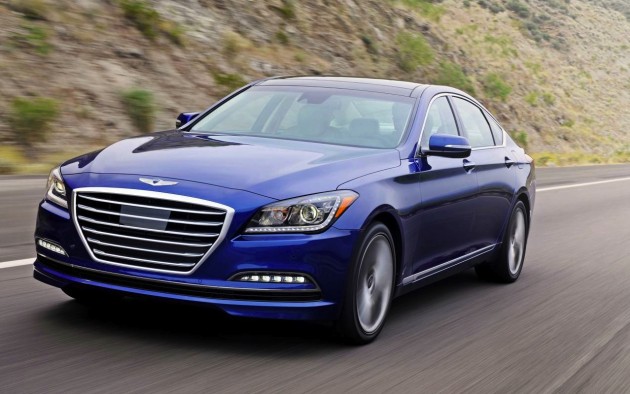 In an Automotive News report, Hyundai Motor America confirmed plans to produce an all-new twin-turbo V6 that will first appear in the Genesis sedan in the next 2-3 years. Dave Zuchowski, CEO of the US arm, said the engine will offer an output similar to the current 5.0-litre V8.
The V8 version is not made in right-hand drive and is therefor not sold in Australia. It's fitted to the flagship variants in the US, developing 313kW and 520Nm. Zuchowski said the new unit will be part of an overall plan to downsize and turbocharge many engines in the company's showroom range to reduce emissions and improve economy. He said,
"We're going to go forward more broadly with that in the portfolio. You're going to see smaller displacement, more use of turbocharging. A lot of it is weight-related, all of it is CAFE-related."
This philosophy will be kicked off with the 2016 Tuscon SUV. It gets a 1.6-litre turbocharged four-cylinder petrol engine producing 130kW. We've also seen the company introduce a 2.0-litre turbo for some new Sonata variants.
It's unknown if the V8 will still have a place in the Genesis portfolio, however, the V6 will be lighter in weight and offer similar performance. It might even present more torque. This could leave the V8 without a job. Let's hope this time the high-output unit comes to Australia.
At the moment the Aussie-spec Genesis is only available with a fairly thirsty 3.8-litre V6. It produces 232kW and 397Nm, offering an official average consumption of 11.2L/100km. For more info head over to our Genesis review and video.