In the lead up to Holden Special Vehicles' (HSV) 25th anniversary, the Aussie performance car manufacturer has released details on its MY12.5 range. The new range sees ClubSport and Maloo added back into the line up after they were dropped, as well as some new options and power revisions.
New ClubSport and Maloo variants will become HSV's entry level sedan and Ute offerings once again. The new MY12.5 ClubSport will start at $64,990 (manual), and $58,990 for the Maloo (manual). HSV has stated these are the maximum recommended drive-away prices for these cars. Both cars are powered by HSV's 6.2-litre LS3 V8, and will produce 317kW and 550Nm.
Some of their features include Sport Touring suspension, 20-inch Pentagon alloy wheels, four-piston brake calipers, stability control with a special 'Competition Mode', sat-nav and rear park assist with reversing camera.
HSV General Manager of Sales, Darren Bowler, said he liked the way these vehicles measure up in the market place with such great drive-away prices.
"We know we must continue to raise the bar to excite our customers, and our updated range delivers this in spades – new entry level models with exceptional specifications, power-up on our R8 variants and Senator Signature, as well as added value across the range."
MY12.5 ClubSport R8 ($71,500), Maloo R8 ($65,500), and ClubSport Tourer R8 ($72,500) models will now produce a GTS-rivaling 325kW, uprated from 317kW, and also receive new 20-inch SV Performance Forged alloy wheels in Blade Silver. All MY12.5 R8 models will now feature leather trim as standard.
New options include 20-inch SV Performance Forged wheels in Gloss Black ($1250), and bold Vector hood scoops and side vents ($590). HSV will also offer for the first time its six-piston brake package as an option on the Maloo R8 ($3790).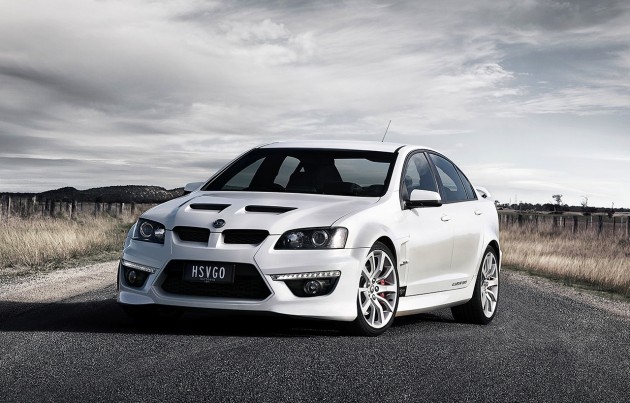 The Senator Signature ($86,990) will also receive the 325kW upgrade to keep inline with the R8 models. Other changes include 20-inch SV Performance Forged alloy wheels in Dark Stainless and Side Blind Zone. Also available to the Senator Signature is the $3790 six-piston brake package.
The GTS will stay unchanged for now, but there is talk of a spicier version baring its skin at the upcoming Australian International Motor Show in October.
To coincide with HSV's 25th anniversary, all models will receive a build plate, internal ID plate and sill plates, and a HSV 25th Anniversary 'start-up' screen display.
HSV Managing Director, Phil Harding, said this about the upcoming anniversary:
"25 years is an important milestone for our company, and we will be looking to celebrate in many ways through the course of the year. From a customer perspective; however, it is the product that matters so we have been working hard to deliver even more value across our range."
The new MY12.5 range will begin production on Monday August 13.