Honda is apparently putting a successor to the beloved S2000 roadster back on the agenda. It's set to come in the form of a sporty coupe smaller than the NSX, featuring hybrid and F1-based technology.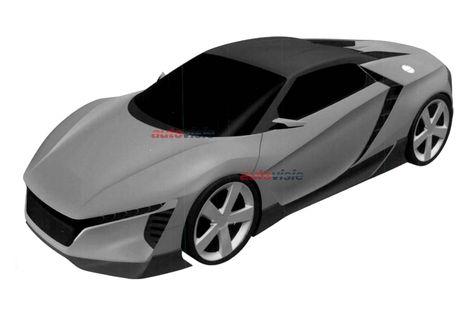 When released in 1999, the original S2000 was a landmark car. Its no-nonsense, motorcycle-inspired interior and instruments, and awesome styling were enough to win friends on their own. But combine it with the 177kW, 9000rpm F20C engine (highest specific power of any NA four-cylinder), and you have a classic of legendary proportions.
According to Auto Express, a new model is set to deviate from that formula significantly. Drawing on styling from both the revived NSX and the Japanese-market S660 mid-engine roadster, the new model is said to use a midship layout – the image above was apparently found in an official patent application.
The publication says the powertrain will comprise of a 1.5-litre turbocharged petrol engine paired to an electric motor for assistance. Overall, combined output is tipped to sit at around the 224kW mark.
Honda is keen to win back the performance fanbase it developed with cars like the Prelude, Integra Type R, Civic Type R, original NSX and CRX. It is doing this by first introducing the new turbocharged Civic Type R and then the revived NSX supercar.
Honda Australia has already confirmed the new Civic Type R and NSX for local showrooms. It is likely it will put its hand up for the S2000 replacement as well.