Remember the story about Honda and Top Gear planning to create the world's fastest lawn mower? Well, the project is now complete, and it certainly has the power to set records.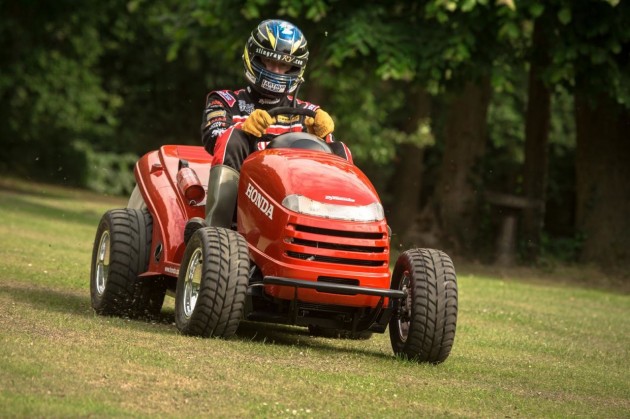 Using a conventional Honda HF2629 ride-on, Top Gear UK and Honda have stripped the original motor and replaced it with a Honda 1000cc VTR Firestorm sports bike engine. It produces 81kW and 96Nm.
Much of the mower's frame had to be modified to accommodate the new engine, with a space frame holding it all together, as well as a custom suspension setup to help the grass-cutter handle.
Although an official record is yet to be written in the record books, the mower uses a six-speed transmission capable of a 209km/h top speed. Acceleration from 0-100km/h apparently takes under 4.0 seconds.
Perhaps the best part about it is the fact that it still can actually mow the lawn; an electric motor spins a 3mm set of blades underneath. Click play below to take a look.
Honda Mean Mower specifications:
| | |
| --- | --- |
| Engine | VTR 1000F Firestorm (stock) |
| Size | 1000cc |
| Power | 109hp |
| 0-100km/h | 4 seconds (est.) |
| MPG | 40 (est.) (when cutting) |
| Max. speed | 133 (est.) |
| Optimum RPM | 9,000 |
| PTW ratio | 532bhp/tonne |
| Torque | 96Nm |
| Body | Honda HF2620 Lawn Tractor |
| Chassis | Chromoly 4130 tubing (Custom-made) |
| Weight | 140kg (approx.) |
| Length | 2400mm |
| Wheelbase | 1425mm |
| Width | 1150mm |
| Wheels & Tyres | |
| Rear | Maxxis/Goldspeed 10 x 10 |
| Front | Maxxis/Goldspeed 6 x 10 |
| Pressure | .9 bar |
| Cutting | |
| Cutter deck | Fibre-glass (Custom-made) |
| Motors | 2 x 15amp, 4000rpm |
| Blades | 2 x 3mm steel cutting cable |
| Other | |
| Brakes | Honda TRX420 ATV |
| Steering | Morris Minor steering rack |
| Gears | Paddle shift |
| Fuel tank capacity | 15 litres |
| Exhaust system | Scorpion |
| Instrumentation | Motorcycle |
| Seat | Cobra (Custom-made) |