The spiritual successor to the Honda CR-X, the all-new Honda CR-Z, will go on sale in Australia on December 1. Pricing details for the sporty hybrid have now been revealed.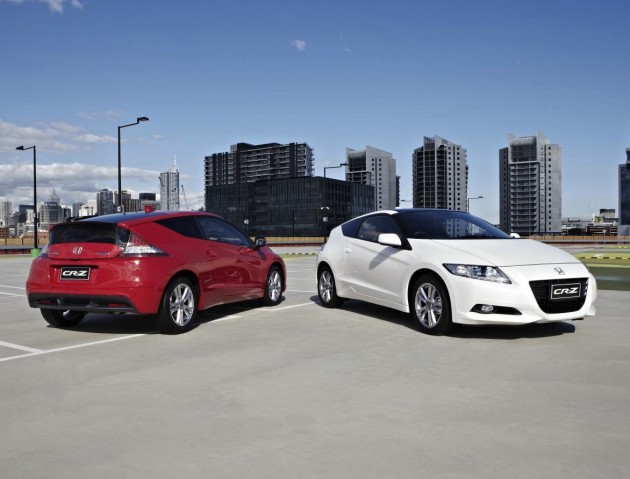 Kicking off at $34,990, it might seem a bit steep for a small hatch, but keep in mind this is a hybrid – a technology that still seems to be at that stage where price premiums are 'acceptable', at least according to the manufacturers. It's also the first ever hybrid in Australia that comes with the option of a proper manual transmission.
We first saw the Honda CR-Z locally at the 2011 Australian International Motor Show in July. It's a sleek and modern package that has been designed to appeal to younger generations, and for those who want something sporty, but don't want to have to empty their bank account every week just to fill up with petrol.
It will launch in three different trims: a Honda CR-Z Sport (manual) from $34,990, a Honda CR-Z Sport (CVT transmission) from $37,290, and a top-spec Honda CR-Z Luxury (CVT only) from $40,790. All prices exclude taxes and additional on-road costs.
In all forms, the Honda CR-Z comes with a 1.5-litre i-VTEC four-cylinder petrol engine matched up to Honda's Integrated Motor Assist hybrid motor. It produces a combined power output of 91kW and 174Nm (167Nm for CVT).
The package is able to do 0-100km/h in 9.7 seconds, according to Honda, although international publications have got it down to 8.3 seconds. Sheer acceleration is not what the Honda CR-Z is all about though; it's promising to offer very sporty and agile handling and plenty of fun. It also boasts an average fuel consumption rating of just 4.7L/100km (CVT) and 5.0L/100km (manual).
Standard kit for the Sport includes 16-inch alloy wheels, swoopy modern body styling, LED taillights and front daytime running lights, parking sensors, and all the interior equipment you'd expected on a modern hatch.
The Luxury goes a step further and gets satellite navigation with DVD and Bluetooth compatibility, a reversing camera, leather interior with heated seats, and a cool panoramic glass roof.
PerformanceDrive hopes to have a full review up of the Honda CR-Z in the very near future.