Honda Australia has announced price cuts for the 2015 CR-V VTi-S variant, in both front-wheel and four-wheel drive guise. Prices are cut by $1000.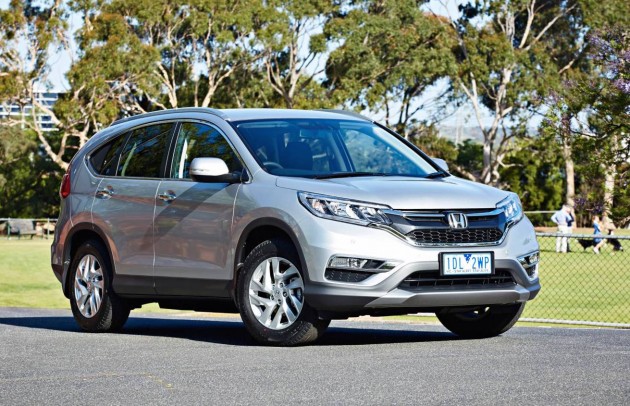 These mid-spec models are regarded as the most popular, and in terms of the market rivals, the most demanding as well. The VTi-S sits between the VTi and the top VTi-L in the local lineup. Honda Australia director Stephen Collins spoke about the price change in a statement, saying,
"The upgraded Honda CR-V was released back in December with a number of specification, technology, styling and variant upgrades across both the two-wheel and four-wheel drive petrol models. Today we are announcing more aggressive pricing to further boost sales in this highly competitive segment."
So far this year (through June) Honda Australia has sold 4337 examples of the CR-V, making it the sixth best-seller in the extremely competitive segment. Sales are down 13.9 per cent year-to-date, however, the local arm is wanting to turn this around.
Under the bonnet, the 2WD VTi-S comes with a 2.0-litre naturally aspirated four-cylinder engine producing 114kW and 190Nm. It's matched up to a five-speed automatic, offering a combined fuel consumption of 7.7L/100km.
In the 4WD VTi-S there's a 2.4-litre four-cylinder producing 140kW and 222Nm. It's also connected to a five-speed automatic, but due to the additional load and weight (1559kg vs 1464kg) of the all-wheel drive system compared with the 2WD, and the larger capacity engine, fuel consumption is rated at 8.7L/100km.
See below for the compete MY2015 CR-V petrol lineup and prices (excluding on-road costs):
2015 Honda CR-V VTi 2WD manual – $27,490
2015 Honda CR-V VTi 2WD auto – $29,790
2015 Honda CR-V VTi 4WD auto – $32,790
2015 Honda CR-V VTi-S 2WD auto – $32,290
2015 Honda CR-V VTi-S 4WD auto – $35,290
2015 Honda CR-V VTi-L 2WD auto – $39,290
2015 Honda CR-V VTi-L 2WD auto – $39,290
2015 Honda CR-V VTi-L 4WD auto – $42,290
2015 Honda CR-V VTi-L ADAS 4WD auto – $45,790