Holden could be about to introduce a VF Holden Commodore Director special edition, both as a send-off to the Commodore and to pay respect to the original VK and VL Director models of yesteryear.
Last month PerformanceDrive had exclusive word from Holden Australia, confirming there is some kind of special edition Commodore coming that will help send off the nameplate before local manufacturing shuts down. Its director of communications, Sean Poppitt, said there are "a few tricks up our sleeve, a few exciting options on the table".
Now rumours are stirring, hinting at the revival of the Director nameplate. Holden, or more specifically GM, registered an application to trademark the Director name in 2014. It was approved in January. Holden also registered an application to trademark "Bathurst" in June last year, suggesting there could be a Bathurst edition on the way as well.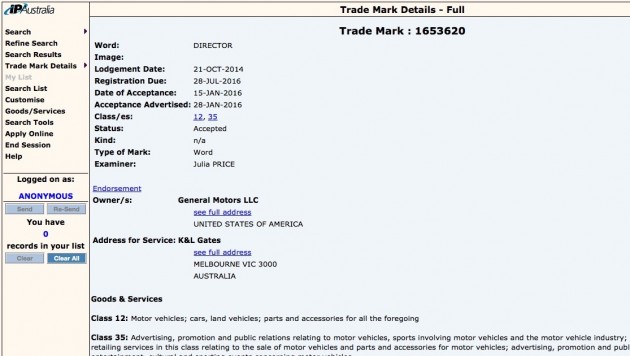 As usual, trademark applications don't always mean there is a production car definitely coming. It could simply be GM protecting the name for the future. However, it is an interesting clue at the very least.
Nowadays Director Commodores are worth a mint, often fetching extraordinary figures at auction and so on. A new VF Director could be a great gift for Holden fans before it all comes to an end by 2017.
So, what can we expect for a VF Director? As hinted by Poppitt, a special edition isn't likely to come with any extreme engine or chassis modifications. Holden only recently introduced the heavily revised VF Series II, which already builds on the success of the VF.
Instead, we can probably expect a range of cosmetic tweaks, such as a unique bodykit, revised front end, special wheels, and some interior tweaks including sports seats and Director logos.
Like the old models, the VF Director is set to be luxury-focused with a performance edge. As such, it is likely to be based on the Calais V. In standard form the V8 Calais V comes with an LS3 6.2-litre V8 producing 304kW.
Whatever the plans are, Holden is expected to make announcements in the next few months. What do you think? Would you like to see a new Director being launched to say goodbye to the Commodore?