Holden sales have been slowly dipping in recent months since the closure of Australian manufacturing. In the month of March the iconic brand dropped to 10th spot overall, which is an all-new low for the brand.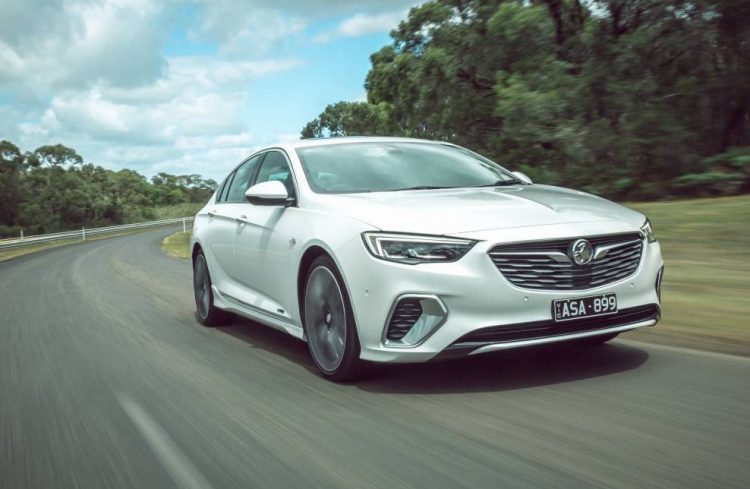 In March Holden reported 5116 sales, which is the second-lowest figure we've seen over the past decade or so, behind February's result of just 4689 sales (8th spot). This time last year (March) Holden sold 7211 cars, which was good enough for fifth place. The push down into 10th spot isn't necessarily a direct result of falling sales, though. A contributing factor is that other brands are launching more and more products and it seems customers are jumping into these over the existing and new Holden products.
For example, Honda and Subaru recorded impressive sales in March, both resulting in decent positives for year-to-date and for the month. Subaru's March figure of 5195 (8th) is up 3.8 per cent on March last year, and up 4.6 per cent year-to-date. Honda's March effort of 5586 (7th) is up a whopping 79.8 per cent compared with March last year, and up 54.8 per cent year-to-date. Most of the drive came from CR-V sales, which are up 183.8 per cent year-to-date.
In comparison, Holden's March figure is down 22.8 per cent for the month, and down 29.1 per cent year-to-date. The biggest falls come from the Commodore and Commodore Ute. Commodore sales are down 52.4 per cent compared with March last year, and down 53.7 per cent year-to-date. Meanwhile the Commodore Ute is down 86.7 per cent for the month and 73.6 per cent year-to-date. Commodore sales will continue with the new overseas-made model, but Commodore Ute sales will soon drop off completely. In March consumers purchased 990 new Commodores, and this could have included some of the existing VF stock.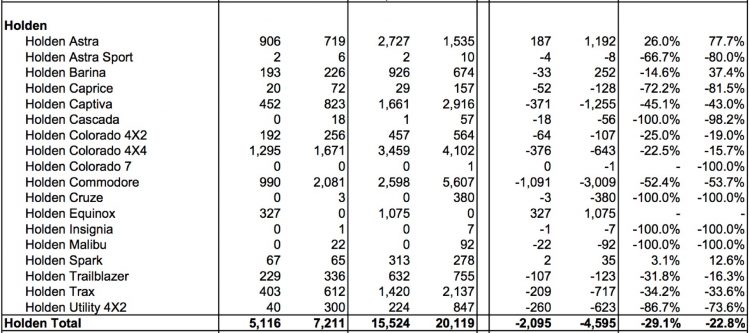 Across the entire current lineup the only models that are producing positive results, year-to-date, are the Astra (up 77%), the Barina (up 37.4%), and the Spark (up 12.6%). All other models, for the month of March at least, are reporting sizeable drops. Part of this comes from the departure of some models such as the Cascada and Astra Sport. The biggest loser, aside from the Commodore and models that have since been dropped, is the Trax, dropping 33.6 per cent year-to-date.
Holden is still considered to be in a transition period since ending local manufacturing of the Commodore and Cruze late last year, but new models such as the Equinox are expected to help maintain decent sales. Whether it will be able to remain in the top 10 or potentially move back up the rankings hinges on the success of the new Commodore, along with efforts from other strong-sellers such as the Colorado and Astra. The most popular model so far this year is the Colorado 4×4, with 3459 sales.
Arch nemesis brand Ford seems to have held on okay since losing the Falcon in 2016. It reported 6687 sales in March, which was good enough for fifth spot. The figure is down 0.2 per cent year-to-date and down 2.4 per cent for the month. See below for the top 10 best-selling carmakers of March, with year-to-date changes in brackets.
Toyota – 18,878 (up 8.1% YTD)
Mazda – 9723 (down 2.3%)
Mitsubishi – 8810 (up 15.2%)
Hyundai – 8443 (up 5.2%)
Ford – 6687 (down 0.2%)
Nissan – 6191 (down 4.7%)
Honda – 5586 (up 54.8%)
Subaru – 5195 (up 4.6%)
Volkswagen – 5137 (up 0.4%)
Holden – 5116 (down 22.8%)
What could be done about this? Well, Holden could have introduced the Camaro as a direct rival to the Mustang to try and claw back some sales and some fan respect, given the Mustang is doing big things for Ford. But instead the Camaro is being introduced through HSV and is set to be priced from around $90,000. General Motors, Holden's parent company, also has the power to kill off the Holden brand and introduce Chevrolet and Cadillac, which might have been a better option.
With PSA (Peugeot-Citroen) recently purchasing the Opel and Vauxhall brands from GM, the future of the Commodore and Astra isn't exactly clear. The next-gen Commodore might even be powered by a Peugeot engine, if PSA decides to renew the Insignia (overseas version of the Commodore) that is. We'll have to wait and see. Feel free to tell us what you think below.