While attempting to set a new Nurburgring lap record, a Gumpert Apollo Speed has crashed into a barrier just after taking off. The Gumpert was being driven by Adrian Sutil, current F1 Force India Formula One driver.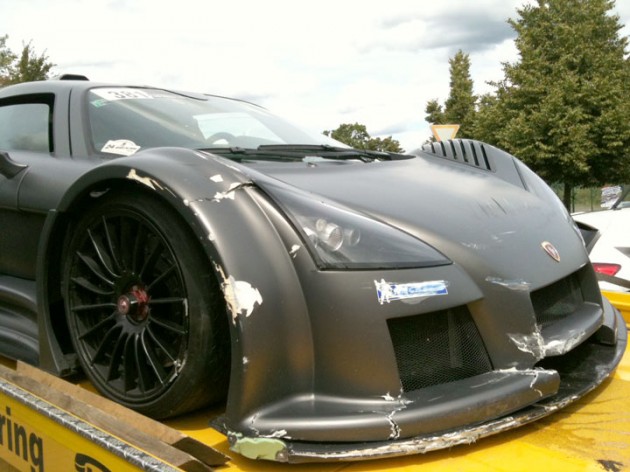 According to Nurburgring enthusiast website, BridgetoGantry, Sutil was attempting to break the car's lap record at the treacherous track, which currently stands at 7:11.57. Unfortunately, Sutil got a bit too excited about attempting the run and used too much throttle existing the pit lane.
All 522kW were transferred to the tarmac at once, sending the carbon-fibre hypercar into a flinging, out of control fishtail and into the straight's guard rails. The damage doesn't appear to be too serious from these images, but still, way to go Sutil.
The Gumpert Apollo Speed is generally regarded as the fastest road legal car to lap the circuit. Although it's not really what you would call a weekly runaround, it does feature doors, lights and mirrors just like any normal car.
In the back sits an Audi-derived 4.2-litre twin-turbo V8 producing 522kW of power and a thumping 875Nm of torque. The entire car weighs just 1300kg and is able to do the 0-100km/h dash in just 2.9 seconds. Not bad for a rear-wheel drive.
(with thanks to BridgetoGantry)
Interested in the actual record run? Click play on the video below. It was achieved in 2009 piloted by Florian Gruber.