As part of its latest campaign to advertise a new global channel called BBC Brit, the British broadcasting corporation has built a massive statue of Top Gear's famous part man, part machine test driver, The Stig.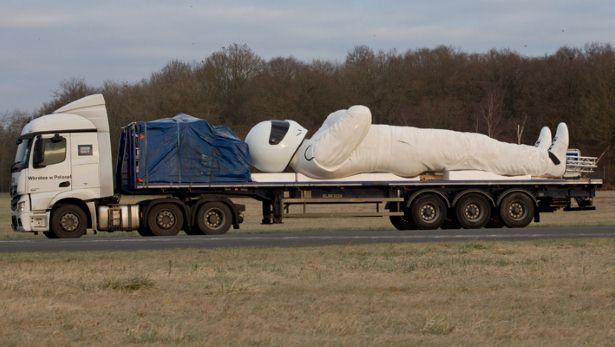 Three sculptors took more than two months to complete the nine-meter tall Stig, which is made completely from fiberglass. The Stig has been loaded onto a truck and is now making its way through the Netherlands, Germany and onto its final resting place in Warsaw, Poland.
The statue captures the Top Gear tamed racing driver in his typical cross-armed stance, with an impressive level of detail from helmet to toe.
The Stig's tour coincides with the launch of a new global BBC channel, BBC Brit, which will launch in Poland on February 1, and will broadcast a number of popular BBC shows, including Top Gear, to be shown on the same day as shown to the British public.
This fast-tracking of programs is set to benefit the BBC by reducing the number of people illegally accessing the show online, and also to get a larger demographic engaged with other BBC material.