Germany's federal transport ministry has asked Tesla to halt marketing its autonomous driving technology as 'Autopilot', saying the name is misleading to the public.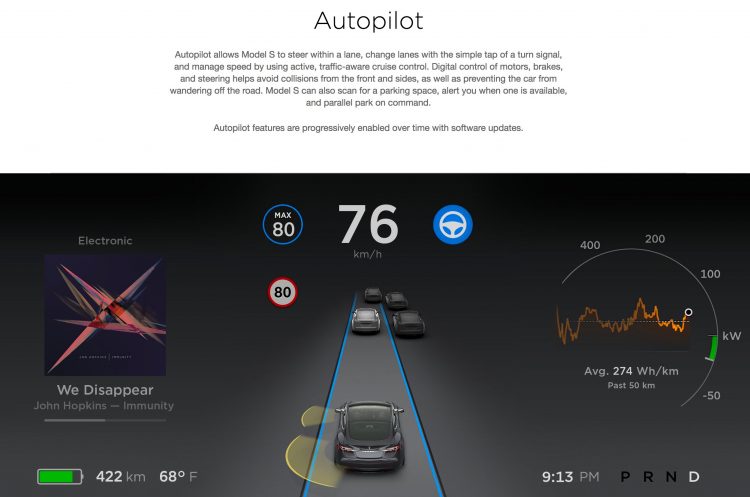 The Federal Motor Transport Authority (KBA) has issued a statement saying the 'Autopilot' name insinuates the driver's attention is not necessary. Alexander Dobrindt, a spokesperson for the KBA has told German publication Bild am Sonntag that the KBA has contacted Tesla in regards to the name.
"It can be confirmed that a letter to Tesla exists with the request to no longer use the misleading term Autopilot for the driver assistance system of the car. In order to prevent misunderstanding and incorrect customers' expectations, we demand that the misleading term Autopilot is no longer used in advertising the system," Dobrindt said.
The KBA also echoed their concerns to Tesla owners in Germany, issuing them a letter insisting they pay constant attention to the road even with the autopilot system engaged.
A Tesla spokesperson has since responded saying that autopilot systems had been in use for decades in the aerospace industry, adding that Tesla makes it clear to customers to pay attention to the road, even with the system engaged.
"Just as in an airplane, when used properly, Autopilot reduces driver workload and provides an added layer of safety when compared to purely manual driving," Tesla's spokesperson said.
As it stands, Tesla's vehicles sit somewhere between level 2 and level 3 autonomy, on the scale defined by the US National Highway Traffic Safety Administration's criteria of autonomous vehicles.
The German regulator may well revise their request if and when Tesla's vehicles achieve level 4 autonomy. According to the NHTSA's policy, level 4 autonomy ensures the vehicle "is designed to perform all safety-critical driving functions and monitor roadway conditions for an entire trip."
"Such a design anticipates that the driver will provide destination or navigation input, but is not expected to be available for control at any time during the trip."
Tesla CEO Elon Musk announced earlier in the year that his company is working away at achieving level 4 autonomy in its vehicles, adding that at this point it is a matter of software rather than hardware limitations.
Elon Musk said: "What we've got will blow people's minds, it blows my mind …it'll come sooner than people think," in reference to Tesla's level 4 technology.