Genesis has opened its first dedicated showroom in Australia, as part of the launch of the brand which is now standalone from Hyundai. The showroom currently showcases the new G70 mid-size and G80 large sedans.
The showroom is located in the busy Pitt Street Mall, and is just one of others planned for capital cities around the country. It's also part of a global move as Genesis separates itself from parent brand, Hyundai. Speaking about the opening, Manfred Fitzgerald, executive vice president and global head at Genesis, said:
"I am delighted to unveil Genesis in Australia with the grand opening of our flagship Genesis Studio in Sydney. Genesis Studio Sydney ushers in a new exclusive way to buy and own a luxury car, providing customers with all-encompassing premium ownership experience."
Genesis is hitting the market as not just a maker of luxury cars, but it wants to sell a whole customer experience to consumers. As such, buyers can build and order vehicles online at fixed pricing across the country, and customers are treated to the 'Genesis to You' program, whereby Genesis will bring a vehicle to a potential buyer's home or office for a test drive.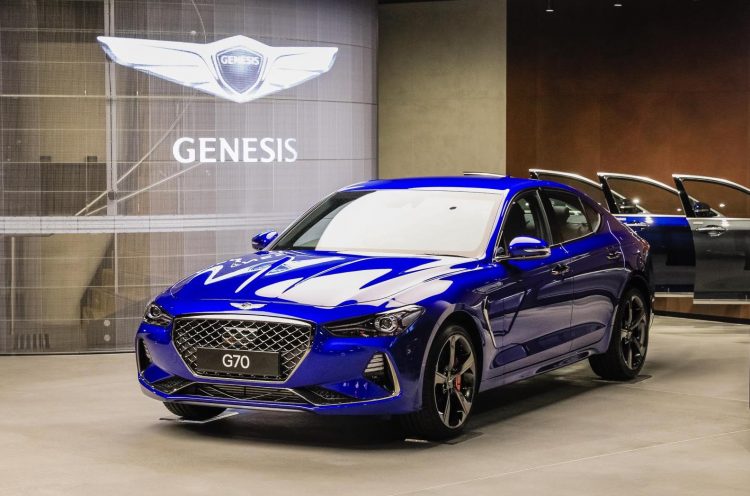 The brand also offers an extensive after-sales package, with five years warranty (unlimited kilometres), and five years complimentary scheduled servicing and five years roadside assistance. Other benefits include the Genesis Connected Services (five years subscription), along with Lifestyle Concierge and Global Privileges.
Right now just the two main models are on sale from Genesis, however, there are plans for three new SUVs including the GV80 which will be a BMW X5 rival. There's also said to be an electrified sports car coming in the next few years, which will likely enter the market as the brand's halo model.
Genesis has confirmed that it wants all of its products to be globally available, with no major differentiation between markets, including right-hand drive and left-hand drive. In other words, upcoming models are set to be offered in Australia in due course.