Here's a car we bet you didn't know existed. We didn't. It's a 930-era Porsche 911 with a McLaren Formula One engine.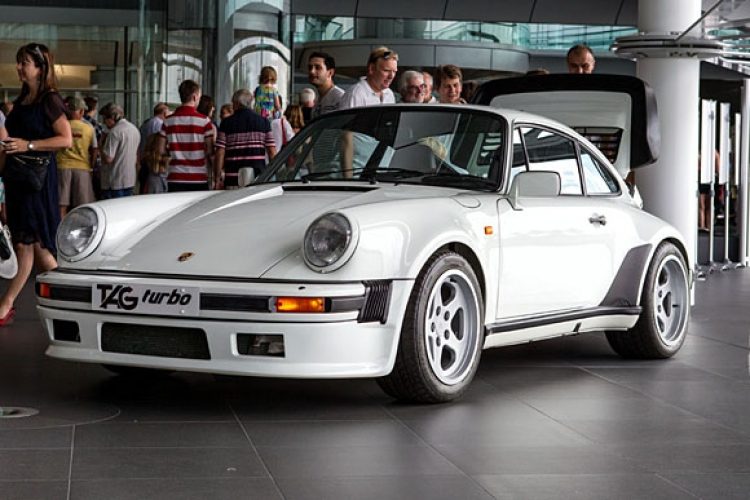 Yes, you did read that correctly. Sitting in the back of this otherwise neat-looking 911 is a 1.5-litre TAG turbocharged V6 like what was seen in McLaren F1 cars of the 1980s.
This car was spotted at McLaren's headquarters in the UK and posted up onto website Drivecult.com, showing off only a set of Ruf alloy wheels. At the back, though, are two very thick intercoolers that help cool pressurised air being fed into the tiny F1 V6 engine.
The V6 project was initially funded by TAG, a main sponsor for Williams F1 back in the days. The engines were then built by Porsche as part of a deal and used in McLaren F1 cars for seasons 1984-87. TAG founder Mansour Ojjeh later became a McLaren shareholder.
The V6, codenamed TTE P01, followed the tradition (at the time) of massive turbochargers bolted to very small engines. With boost post-1987 limited to 4.0bar (58psi), the TAG-Porsche unit was rated at around 485kW (650hp). In qualifying spec these engines were known to produce up to 630kW (850hp).
Judging by these images the engine looks pretty snug in the back of the 911. With the engine cover closed nobody would know any different. Umm, except for the noise it would make. It's both the ultimate sleeper and the ultimate engine conversion idea.
It's unknown what sort of speed this 911 can achieve. As we mentioned, we didn't even know it existed. We suspect 0-100km/h would be quicker than the speed of the sound it makes. It must have been a (very) secret inside project by some of the engineers at McLaren at the time.
All we can say is, throw us the keys… please?